We're so proud of our youth, families, and educators for pushing through this challenging year. These continue to be unprecedented times, yet our communities have demonstrated resilience time and time again. We hope that this summer can be a time of rest, reflection, and connection for you and your loved ones.
---
Opening Message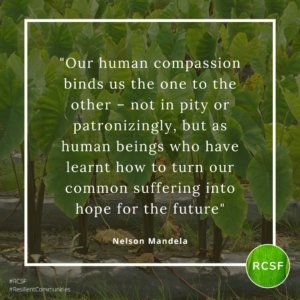 ---
National engagement
Members of the RCSF team travel to Los Angeles this month to participate in the 2022 National Community Schools And Family Engagement Conference (CSxFE). This was an exciting opportunity to share and learn as part of a gathering 3,500 strong.
Hawaiʻi was well-represented, with more than 30 folks traveling from the islands, meeting up via state-specific breakout sessions and learning as a full group. RCSF team members shared that it was extremely valuable to observe robust and mature Community Schools on the continent, where community has been fully brought into the classroom. The team also reflected on how local work would benefit from a stronger shared definition of Community Schools and Family Engagement and the strengthening of system partnerships.
The team was ultimately energized to come back home and focus on promoting student and family voice, prioritizing pilina and trust-building, removing barriers to family engagement, and pursuing federal funding opportunities to advance Community Schools.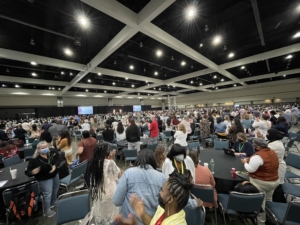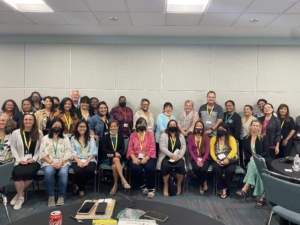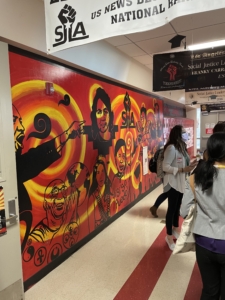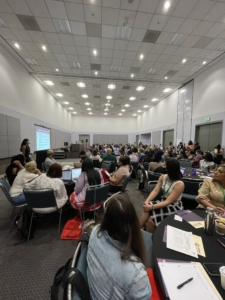 ---
RCSF session for teachers
A major component of RCSF is the strengthening of partnerships across our state. We're grateful to Parents for Public Schools Hawaiʻi for having our team come speak with your leadership about how this work relates to the challenges facing families. Our team will also be presenting at the 2022 Schools of the Future Conference, so please be sure to register and come to our workshop.
We're also very excited to partner with the Hawaiʻi State Teacher Fellows to offer a special virtual workshop on June 22 specifically designed for teachers. Register today at: https://bit.ly/traumainformed22.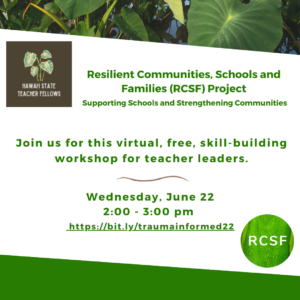 ---
Other project notes
Looking for 2 new team members
We're thrilled to have three new Community Schools Coordinators on our team that support with Honaunau, Mountain View, and Waiʻanae elementary schools. We are currently hiring for Blanche Pope Elementary in Waimānalo and Pāʻia Elementary in Maui, so don't miss your chance to get directly engaged in this work.
Job Description: https://bit.ly/csc_jd
Application: https://bit.ly/csc_apply 
Hawaiʻi Business Magazine
Mahalo to Hawaiʻi Business Magazine for shouting out the great work of the Harry And Jeanette Weinberg Foundation in this month's issue. We're incredibly honored that the RCSF project was highlighted in the article, and you can read the full article here and read the excerpt below:
In 2020, Ceeds of Peace received a $357,500 multi-year grant for its Resilient Communities, Schools and Families Project. The pilot program helps [five] rural elementary schools implement social-emotional learning while bringing an array of educational and social services to kids who are struggling.
Scott Nishimoto, executive director of Ceeds of Peace, explains that "the Weinberg Foundation was one of the earliest funders to believe in our work. The trust that they showed in us has helped us gain the trust of other funders, partners and schools."
Says Hayase: "We're really interested in being a part of community solutions. We have to be finding ways to collaborate, to convene people, and to be good listeners and good learners."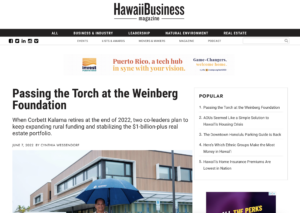 ---
Resilience Resources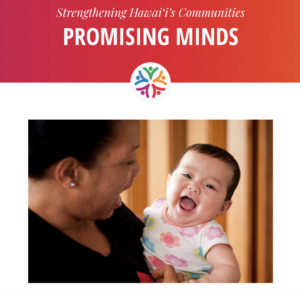 Check out the Promising Minds Initiative to see how the Hawaii Community Foundation is promoting a trauma-informed approach at the systems level, including supporting SB2482 to create an Office of Wellness and Resilience.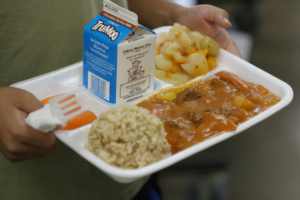 Families looking for support with meals this summer can get help from the Hawaii DOE. The Seamless Summer Option (SSO) program will serve meals at select schools Monday through Friday, excluding state holidays, to ensure that children continue to receive balanced nutrition during the summer break.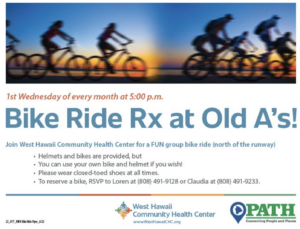 Looking for an opportunity to get some healthy time outside in the community? The West Hawaii Community Health Center is organizing monthly bike rides, and PATH will provide a bike if you need one. RSVP to Loren (808) 491-9128 or Claudia (808) 491-9233 to reserve a bike.

Many families and folks in the education community are still reeling from the recent school shooting in Uvalde, Texas. Here is a robust set of resources from Youth.gov for helping youth cope after a mass shooting.
---
Take Action
The long-term goal of the Resilient Communities, Schools and Families project is to build long-term resilience, well-being and community abundance. As such, the project goes beyond communities and children merely surviving difficult situations, but instead finding their own strength and thriving. We hope to cultivate a spirit of hope and possibility to support the holistic wellbeing of the students of today and tomorrow. Please let us know if you can join this movement.
Don't forget to follow the project on social media!
Facebook (Designed as a group vs page to enable more community discussion and engagement): https://www.facebook.com/groups/resilientcommunityhi
Twitter: @RCSFHawaii
Instagram: @ResilientcommunityHI
---
Consortium Partners

---
Mahalo!
This work is a true community effort and is made possible through the generous support of our partners, including:
Hawaiʻi Resilience Fund at the Hawaiʻi Community Foundation
The Harry and Jeanette Weinberg Foundation
U.S. Department of Education Native Hawaiʻi Education Program #S362A210059