Whether we're grappling with how to talk to our kids about war, reflecting on two year milestones of our global pandemic, or dissecting the implications of the water contamination at Red Hill, these can be heavy and difficult times. Changing pandemic restrictions for day-to-day living and travel can bring both excitement and anxiety.
Given these challenges, we're so proud of the many schools and community partners who have stepped up to make a difference for our kids and families. RCSF partner schools have shared how they have developed strategies through the pandemic to develop even deeper relationships with families and support organizations, and how they plan to continue these practices. While we can't predict what will happen next, we know our broader Hawaiʻi community has the collective resilience to face the future together.
---
Opening Message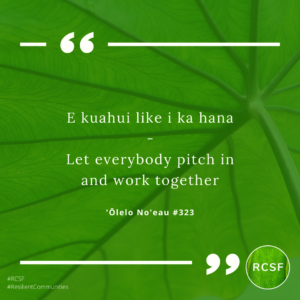 ---
Join the Team!
Have you enjoyed these updates on the RCSF project? If so, we hope you will consider being part of this work, as we're hiring 5 Community Schools Coordinators! Learn more and apply via these links:
Job Description: https://bit.ly/csc_jd
Application: https://bit.ly/csc_apply
Note: These are in-person positions based in our pilot schools.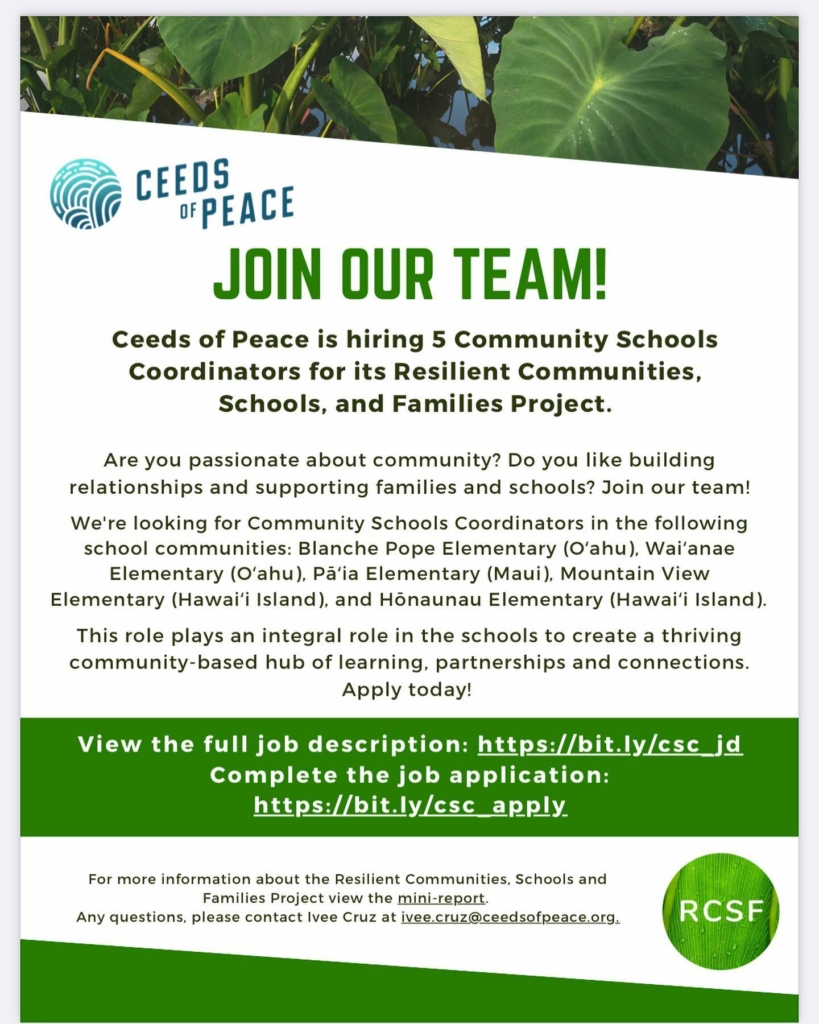 ---
New: Social Media
We're excited to share that RCSF is now on social media! Please add / follow our brand new social media handles (below), as we will share stories from project partners, information about events that cultivate resilience, and happenings across the islands that align to our project. If you have anything you would like to share please email resilientcommunityhi@gmail.com.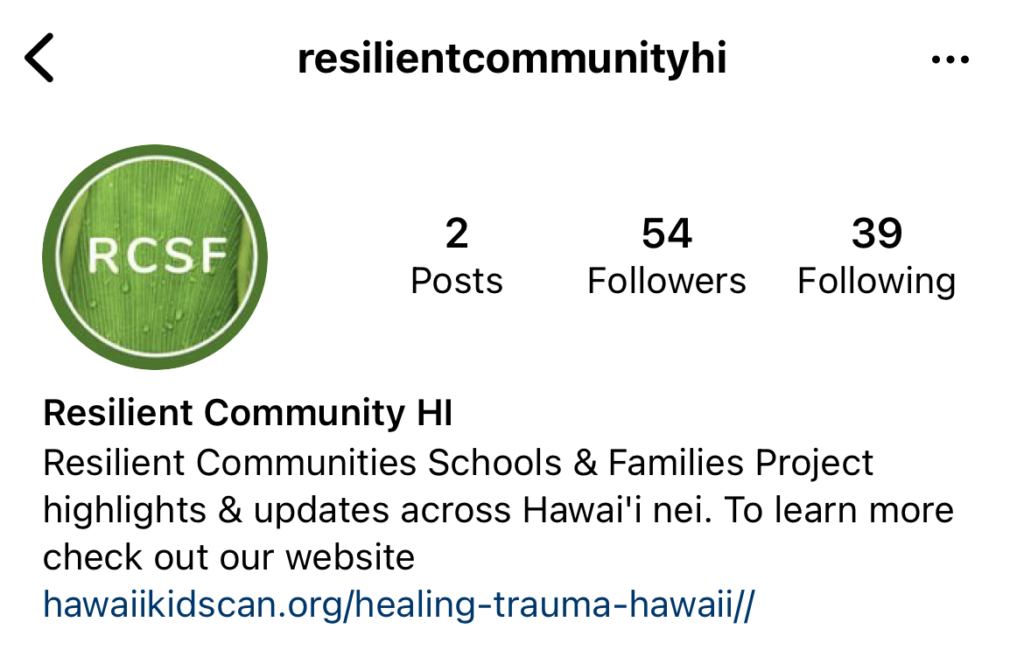 ---
2022 Legislative Session
As we previously shared, a number of bills this legislative session are relevant to the goals of the RCSF project, so here are some updates on bills that are still alive. Check out these great resources from the Legislative Reference Bureau's Public Access Room to learn how you can track and support these bills.
1) SB2482 – pending House Committee on Finance hearing
This bill establishes a temporary Office of Wellness and Resilience within the Office of the Governor; authorizes the Office of Wellness and Resilience to address issues and implement solutions to improve wellness and resilience, including issues and solutions identified by the trauma-informed care task force; and appropriates funds.
2) HB1941 – pending Senate Committee on Ways and Means hearing
This bill requires the Department of Education to establish grant programs to provide funds for the planning and implementation of community schools through a two-year pilot program.
3) SB2564 – pending House Committee on Education hearing
This bill appropriates moneys for the Department of Education's Resources for Enrichment, Athletics, Culture, and Health Program to match federal dollars that the State receives for the federal Nita M. Lowey 21st Century Community Learning Centers Grant Program.
4) SB2818– pending House Committee on Finance hearing
This bill establishes the position of Summer Learning Coordinator within the Department of Education and makes an appropriation to fund the position of Summer Learning Coordinator.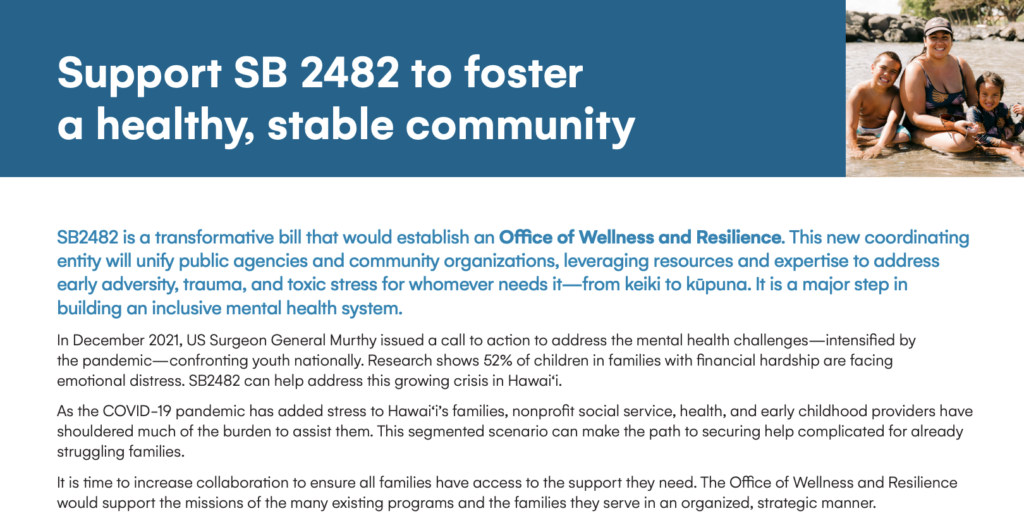 ---
Resilience Resources

RCSF Hā Ola partner Waiʻanae Coast Comprehensive Health Center has compiled a great resource directory for Leeward Oʻahu residents that they or other community programs offer.

RCSF Hā Ola partner Hui No Ke Ola Pono offers a breathtaking number of services to the Maui community, including wellness classes, traditional healing practices, and supports for parents and families.

RCSF Hā Ola partner West Hawaiʻi Community Health Center also has a number of programs, including a self-guided online lesson from Stanford Medical School for Teens & Tweens ages 11-18 relating to the youth vaping epidemic.
---
Take Action
The long-term goal of the Resilient Communities, Schools and Families project is to build long-term resilience, well-being and community abundance. As such, the project goes beyond communities and children merely surviving difficult situations, but instead finding their own strength and thriving. We hope to cultivate a spirit of hope and possibility to support the holistic wellbeing of the students of today and tomorrow. Please let us know if you can join this movement.
---
Consortium Partners

---
Mahalo!
This work is a true community effort and is made possible through the generous support of our partners, including:
Hawaiʻi Resilience Fund at the Hawaiʻi Community Foundation
The Harry and Jeanette Weinberg Foundation
U.S. Department of Education Native Hawaiʻi Education Program #S362A210059