Last month I had the pleasure of meeting innovative computer science students at Campbell High School, where the motivated teenagers use most of their time in class to program mobile apps they've designed themselves.
It's a glimpse into the future, and a promising one at that.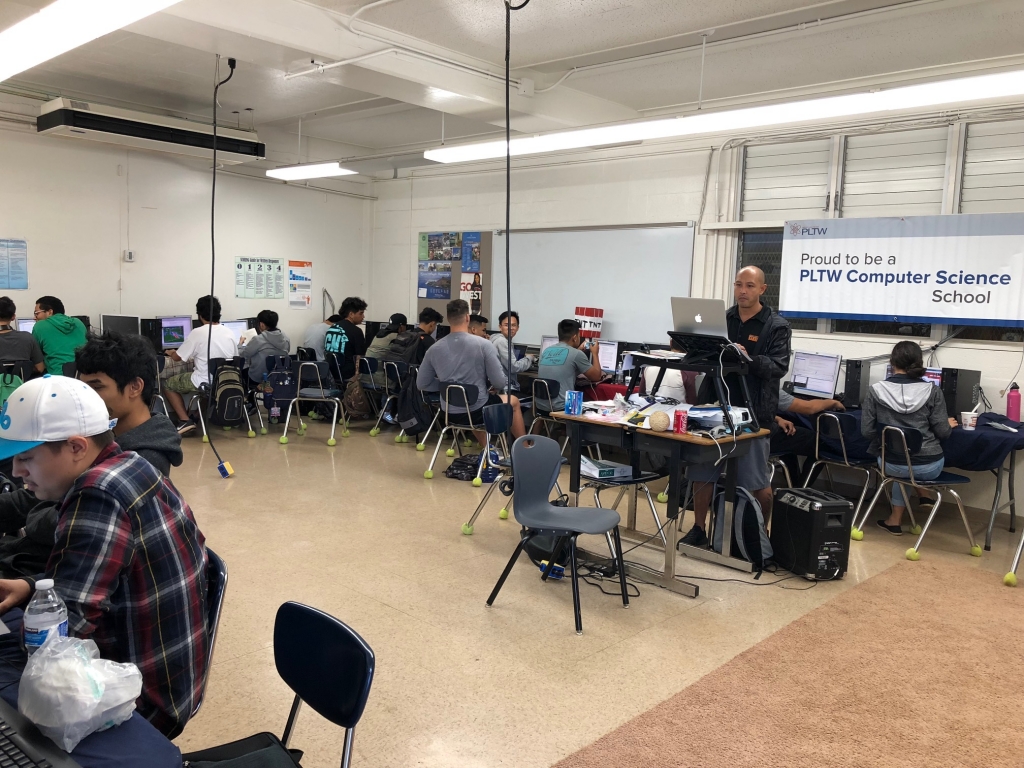 Their teacher, Mr. Delos Reyes, was motivated by his degree in information technology to teach the subject and began offering computer science at Campbell High in 2016. It's an area of tremendous need in Hawaii, where only 14 public schools offer AP Computer Science—largely because there are so few local opportunities for Hawaii's teachers to receive computer science professional development locally. When Mr. Delos Reyes decided to become an AP Computer Science teacher, he could not find professional development courses in state. Instead he scheduled trips to the mainland, to attend an intensive 10-day training with Project Lead The Way—a nonprofit that develops STEM curricula across the country for elementary, middle and high schools. Next school year, Mr. Delos Reyes will become one of the first Project Lead The Way Master Teachers for Computer Science in Hawaii—and help close the professional development gap for computer science in our state.
Of the 14 public schools that offer AP Computer Science courses, just four serve high numbers of low-income students, and just 32 percent of AP Computer Science test takers were female students in 2017. That's part of what makes Mr. Delos Reyes' class so important: it's mostly comprised of students of color, including women of color, who are underrepresented in the tech world. Many AP Computer Science students joined Campbell High's STEM academy track at school, but some didn't start out that way. For example, a junior named Jordan said she was focused on health at first, but after she took an intro to computer science class she was hooked. That class was the catalyst for her to shift her focus into computer science, and joining the STEM track.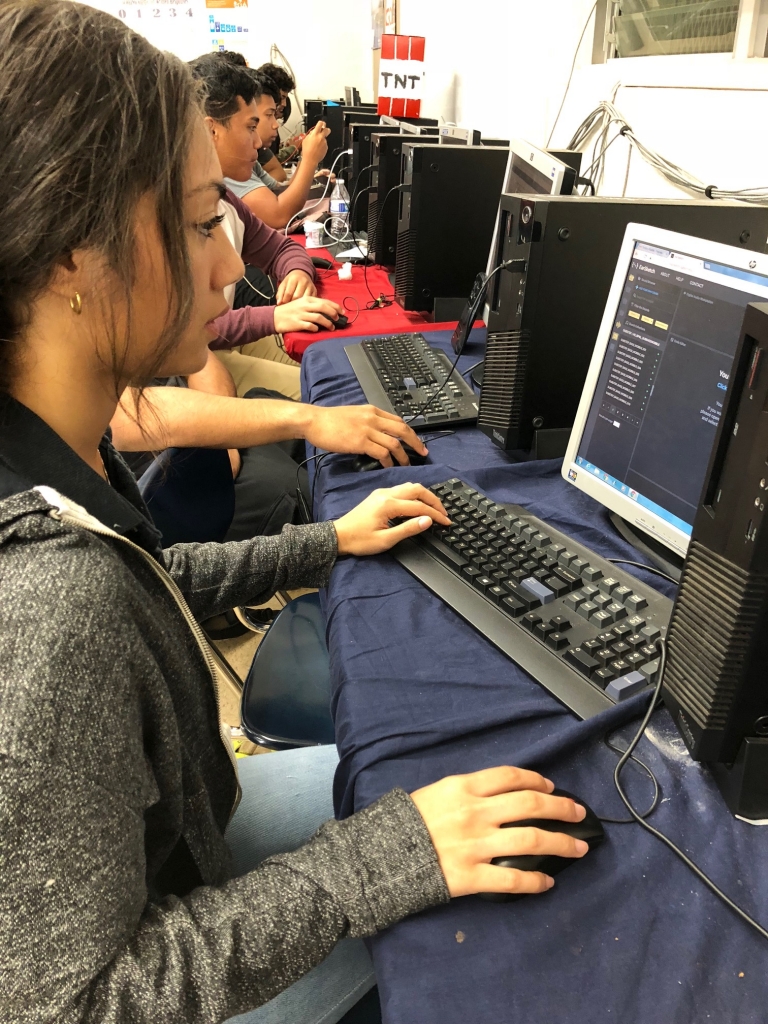 When I asked the students why they were in Mr. Delos Reyes' class, a lot of them said it allows them to be creative while solving real-world problems. Henrietta, Redwan and Edward, all seniors in AP Computer Science, are co-creating an app for Kahi Mohala, a local non-profit, that will help them streamline filing and paperwork. The end result of their project will be an actual product that Kahi Mohala can use to make their paperwork easier and more effective.
Redwan said this class "let's your creativity fly," and that his goal is to ultimately create a life-changing app. His in-class experience at Campbell High School is the foundation for that knowledge. For Henrietta, real-world experience in computer science helped her apply to a job with the state department. Edward said that tech classes like this are important because they show students what college is going to be like.
Unfortunately, current public high school graduation standards don't reflect the clear value of computer science. When Redwan visited his school counselor he was disappointed to learn that his AP Computer Science Principles class can only count as an elective, or it can become a fourth math credit if he took three math classes first. Redwan's classmates shared a similar sentiment, that they should be able to take computer science class and gain a math credit immediately (not having to take the three math classes before it would count). For Mr. Delos Reyes, computer science goes beyond even math, touching on language, to design principles, even to art.
Arynn, a senior, said that the coolest thing he got to do in class was develop a game called Aerial Dash for an app fair, which he and Edward worked on together. In the game, you guide a plane through the sky to avoid getting hit by oncoming obstacles. Design is a key part of programming, and the skills Arynn and Edward used to build their game are similar skills that professional game developers use in their jobs—skills that translate into many other computer aided design fields. This creative endeavor required everything from prototyping to generating mockups, working through hours of revision and using the coding language Java to program the game.
Edward believes that if you can program in high school, you can program anywhere. And Mr. Delos Reyes believes that it's essential for students to gain exposure to computer science, because Hawaii is already struggling to fill STEM jobs due to low supply of local talent. But these students can have those jobs right now—they already have the skills, and Mr. Delos Reyes believes this career path will ensure a livable wages for students straight out of high school.
I believe that college is important and allows students to expand their intellectual and personal horizons. But, if students can take a computer science class in high school, a be ready to work in a job that can immediately support themselves with a living wage, now that is amazing!
It's no surprise that Mr. Delos Reyes' computer science classes are in high demand. Last year he taught Computer Science Principles (CSP) with 37 students his first year. This year he has 60 in his AP CSP and 30 more students in AP CSA, and there are 120 students signed up for next year. Campbell High School can only meet that demand if another teacher is trained in the subject, which they hope to do in time for next school year.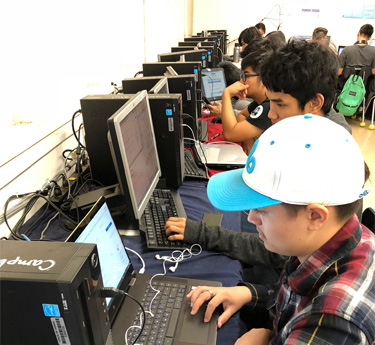 Mr. Delos Reyes was lucky to start teaching with a college background in information technology, but what about other educators who want to teach computer science from a non-CS background? Mr. Delos Reyes belongs to the Computer Science Teachers Association (CSTA) and they recommend that the Department of Education allow already certified teachers to take coding boot camps or coding curriculum professional development like with Project Lead The Way and consider them as "highly-qualified." This would allow an already licensed teacher a shorter time frame to become re-tooled as a computer science teacher. It might also motivate educators who are interested in computer science yet who also have reservations of going back to school for a master's degree in computer science to make the training leap.
Considering that Master's programs are costly and require a greater time investment than coding boot camps, allowing certified teachers to gain credentials through intensive boot camp trainings could help solve the computer science teacher shortage.
Campbell High School computer science classes are ray of hope for our Leeward students. Every student in Hawaii, from kindergarten to 12th grade, should have the chance to learn skills that will catapult their creativity, work on projects that make them feel accomplished and help them land into meaningful jobs where they're developing innovative solutions to society's challenges.
I'm inspired by the pathway exemplified through the Campbell-Kapolei Complex, in partnership with Project Lead The Way. It's also inspiring our next generation of STEM professionals: teenagers like Jordyn, Redwan, Arynn, Henrietta and Edward.
Imagine how many more students we could inspire by bringing computer science education within reach at every public school across Hawaii.