We asked ourselves the question "What if we create an event so community-based nonprofits, local entrepreneurs, and families can come together to share resources about learning experiences that are outside of the traditional school system?" We also wondered: "What could we learn from sharing the thoughts and experiences, and knowledge gained through the eyes of youth who have participated in these programs?" Our questions became a reality, on January 26th, when we held our first Hawaii Education Innovation Showcase (HEIS). We think of HEIS as a community learning experiment and experience. With so many layers, it's hard to explain in a couple of sentences, so let me dive in and share with you some highlights of the event!
We held the event at the newly established Entreprenuer's Sandbox, a co-working, community education, and maker space. Similar to our event HEIS, it's difficult to explain, so to see for yourself, check out the space in our highlight video of our event by local filmmaker Josh Trotter!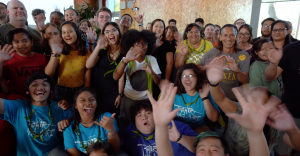 A Path Less Traveled
We are proud to have hosted HEIS at the kick-off of National School Choice week, a week where communities across the continent and Hawaii share and celebrate in educational opportunities outside of the traditional school system. Co-organizer, award-winning youth filmmaker, and cultural advocate Phoenix Maimiti Valentine from Makaha opened the event by sharing how her educational journey is filled with community-based programs–many that she invited to the event!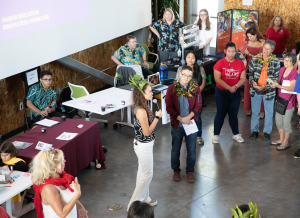 Phoenix's early education in the traditional public school system wasn't a good fit, so she turned to a mixed education with community programs and hybrid schooling at Hawaii Technology Academy. Then as she became more independent in her high-school aged years, she made a shift to a completely un-bundled education filled with art, theatre, filmmaking, advocacy, online learning, and programs grounded in Native Hawaiian culture. She has been able to participate in organizing community events, act in theatre, develop entrepreneurship skills, participate in workshops grounded in Native Hawaiian healing practices and language, and traveling to New York–just to name a few! Her educational journey is indeed a path less traveled, and it's difficult to call her a "homeschooler" because she participates in so many programs that take her outside of home, out into and learning with the community. If anything, she's truly a "community schooler." Not many folks realize that many of these educational opportunities are free to the public or offer generous scholarships. We hope with this first HEIS event, and more events to come, a path like Phoenix's can become more accessible to families across the state. In case you missed it, check out Phoenix on
season 1, episode 10 of the globally popular What School Could Be In Hawaiʻi Podcast!

Resource Fair: Out-of-the-box Education
We invited community-based programs to participate in hosting booths where families could interact and ask questions about what learning experiences each of the programs offer. We had over 17 out-of-the-box programs participate in the Resource Fair. You might ask, what does out-of-the-box mean? Take Hawaiʻi Women In Filmmaking for example. They host Reel Camps for Girls–a program that focuses on developing filmmaking skills while also developing critical thinking about community issues. Since filmmaking is a technology-filled medium and a platform for artistic creativity, and considering how the subject matter of Reel Camps for Girls dissects complex socio-economic issues, if you made a comparison to a traditional classroom "subject," you could say that the learning-by-doing in Reel Camp for Girls is based on at least three or four different subjects!

To check out a full list of the HEIS Resource Fair booths, and links to their websites, click here for our digital program. Below are pictures of the resource fair in action!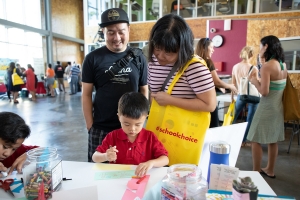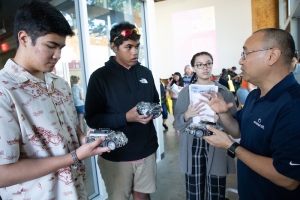 Above left: Families enjoying the interactive booths together. Right: Local tech company Oceanit demonstrates some of the concepts learned in their ALTINO "coding for non-coders" workshop series with cars that participants program themselves to make run!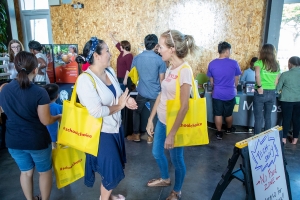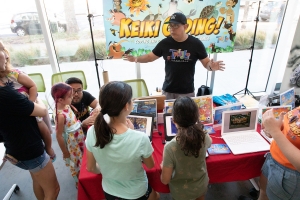 Above left: Parents connecting about their homeschool experiences. Right: Local multimedia studio Twiddle Productions sharing their animation and keiki coding programs.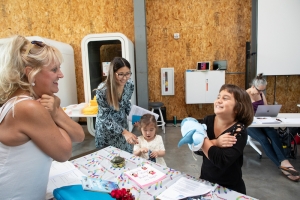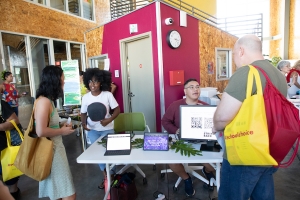 Above left: Acts of Kindness author Marianne shares excerpts of her ASL friendly book with families. Left: Youth leaders from Hawaiʻi Youth Climate Coalition share what their organization advocates for and how to get involved.
Learning Showcase: A Knowledge Share of ExperientialLearning
When folks think of "school" there's usually an idea of learning structured by classrooms, textbooks, and students as passive recipients of knowledge. We believe this is a pretty limited way of looking at how learning happens. After the resource fair, we hosted a Learning Showcase where youth and community members shared the knowledge gained through participating in out-of-the-box learning experiences. With 9 diverse performances it's hard to capture the spirit of them all, but I'll try my best to summarize their lively presentations with you!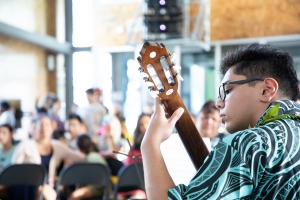 Kaneohe Music School – Yale Conservatory graduate now teacher, Aaron Cardenas shared how classical conservatory style music can be interwoven and grounded in Native Hawaiian values, and student Kai Duhaylonsod played two pieces of classical guitar music.
Kiana Dulan – As recent high-school grad, Kiana decided to take a gap year and focus on fishpond restoration at Loko ea. More than working in nature, her experience at Loko ea has helped her work on personal growth, decompress from social pressure, and gain confidence in building relationships with others.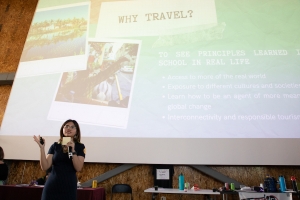 Stephanie Albania – Stephanie had the opportunity to travel with PAAC's Study Tours Abroad. Stephanie shared that traveling brought her new perspectives on how to interact with others and how cultures thousands of miles apart can be more similar than you think.


Kumu Vince – In a very heartfelt talk, Kumu Vince shared how creating an edible product out of what people usually see as a thorny tree encompasses Native Hawaiian values of aloha 'aina, 'ai pono— love of self, caring for the land, what we eat and how it is produced, maintaining community and a conscious decision to do the right thing in terms of self, others, and the environment.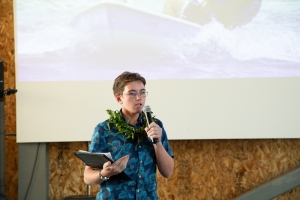 Dylan Schiff – Sailing is an exercise, but it's also an outdoorsy classroom. Dylan shares how sailing offers him opportunities to learn about physics, a chance to participate in healthy competition, a place where he can experience interpersonal growth through mentoring and volunteering, and an opportunity to give back and care for the environment through ocean clean-ups.

Phoenix Maimiti Valentine – As we mentioned before, Phoenix's educational journey is a path less traveled. She shared recent experiences of making a short film–how it unintentionally became a metaphor for ecological awareness–she also shared how participating in three intensive summer programs each contributed to her greater sense of self in artistic expression, entrepreneurship, and Hawaiian culture. Phoenix has been busy! She recently wrote a nationally featured editorial about how education is "what you make of it" and that "learning is everywhere," read it here.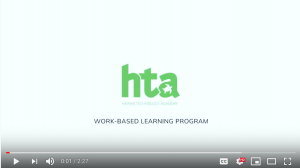 Hawaii Technology Academy (HTA) Student Interns – HTA Work-Based learning program offers high schoolers to get out of the classroom and learn-by-doing through internships. Participants shared how they have a chance to work at real job sites, offering opportunities to learn skills that can jumpstart their careers or explore career options. To see the video that HTA shared at the event, click here.
Hawaii Youth Climate Coalition – Co-presenters Kawika Pegram and Kristen Brown gave an impressive talk about the short timeline it took to create a youth-led climate movement in Hawaii. Within 6-months Kawika decided to become an activist, harnessed support, formed a core team of leaders (including Kristen), who then organized over 1,500 youth and community members to come out and strike for changing the future. Learn more about the youth-led HYCC here.

WAVE (We Are Voices Of Excellence) –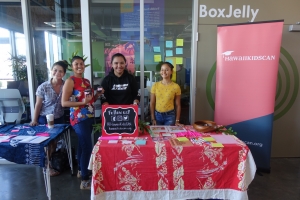 I'm personally proud of the youth who shared at HEIS as I've seen their talents in action. Although we didn't formally have a presenter for our WAVE youth program, I would like to give a big shout out to Liz who is an alumni of WAVE PLC with Teach For America Hawaiʻi, Mei, who is part of Oahu Youth WAVE, and Maria, who participates in Statewide Youth WAVE from Molokai! All three came out to manage our booth and were key in setting up the event space. It's no surprise that many of our youth presenters are also part of WAVE. To learn more about the program, click here. 
Education Redefined
The Hawaii Education Innovation Showcase is a way to elevate and share alternative forms of education. Families are organically piloting new strategies around education, fostering self-reliance outside of traditional school systems, utilizing online and community-based networks to chart their version of education's bottom-up future. We are proud to support the first Hawaii Education Innovation Showcase as a way to highlight local innovations in educational programming, and a way to connect parents with resources for out-of-the-box learning opportunities. We hope that this is the first event of many more to come. If you'd like to help out or support us in growing this community-learning experiment, contact us: info@hawaiikidscan.org.

Big Mahalo
We'd also like to thank all of our vendor booths, volunteers who came in early and stayed with us late into the evening for break-down, and support from collaborators. We couldn't have pulled this off without you!!! Big mahalo to you amazing folks: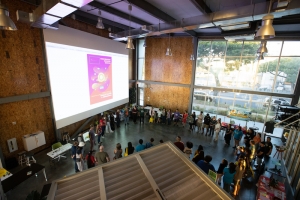 National School Choice Week support and sponsors – Randan Steinhauser

Youth organizers – Phoenix Maimiti Valentine and Dylan Schiff

Volunteers & collaborators – Amy Sun, Heath Williams, Kiana Dulan, Kristen Brown, Kawika Ke Koa Pegram, Lora Burbage, Maria Angst, Marion Ano, Mei-Rose Moikeha, Nina Lin, Stephanie Albania

Venue – Entrepreneurs Sandbox staff, especially Wenyi Lau

Ono grinds – Hiro's Island Catering. 

HawaiiKidsCAN staff – Aisha Heredia and David Miyashiro 

Photography – Bob Duren

Videography – Josh Trotter

Lei making – Ac'Lynne Uesugi