Six months ago, I had the great privilege of launching HawaiiKidsCAN, a locally-led grassroots nonprofit organization that advocates for an equitable, high-quality education for all Hawaii students. Today I'm excited to share our roadmap for getting there: The Future of Education in Hawaii, a document shaped through hundreds of conversations with families, educators and policymakers.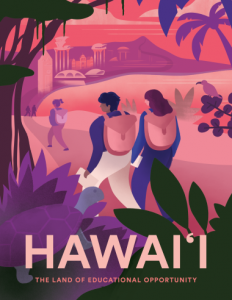 Please take a moment to explore this visual representation of our long-term mission, which also provides the framework for our immediate and future work.
The Future of Education in Hawaii provides a thoughtful set of guiding values and measures of success that will inform HawaiiKidsCAN, and its growing network of partners, on what works best for our students.
To launch our journey into the future of education in Hawaii, we have identified four key policy goals for 2018:
Revise the state Board of Education policy to allow computer science courses to count toward mandatory graduation credits for math or science.
Pass legislation that enables all high schools to offer computer science professional development to teachers.
Pass legislation to appropriate $10 million to support charter schools for facilities projects and rent assistance.
Work with coalition members to create the outline of a pilot fund that will enable public schools to apply for dual-language immersion program startup support through the Department of Education.
As always, I'm incredibly grateful and humbled to have your support. We couldn't do this work without you! With our trusty roadmap and our vision for the future, I hope you'll continue to stand with HawaiiKidsCAN—and help us realize the full potential of all keiki in our state.