It has been an extremely difficult few weeks for Maui and the broader community. Our youth are yet again asked to persevere through a major historic moment, coming closely on the heels of the COVID-19 pandemic. At a time when youth mental health was already a significant concern, students are finding their early lives shaped by trauma.
At the same time, our local and global community has come together with care and aloha to offer support in large and small ways. This month's newsletter gathers some of the incredible resources we've seen for folks on Maui, as well as some resources to help the broader community heal.
While this will be a long recovery, the focus on individual and community resilience offers some measure of hope that can fuel sustained action.
---
Opening Message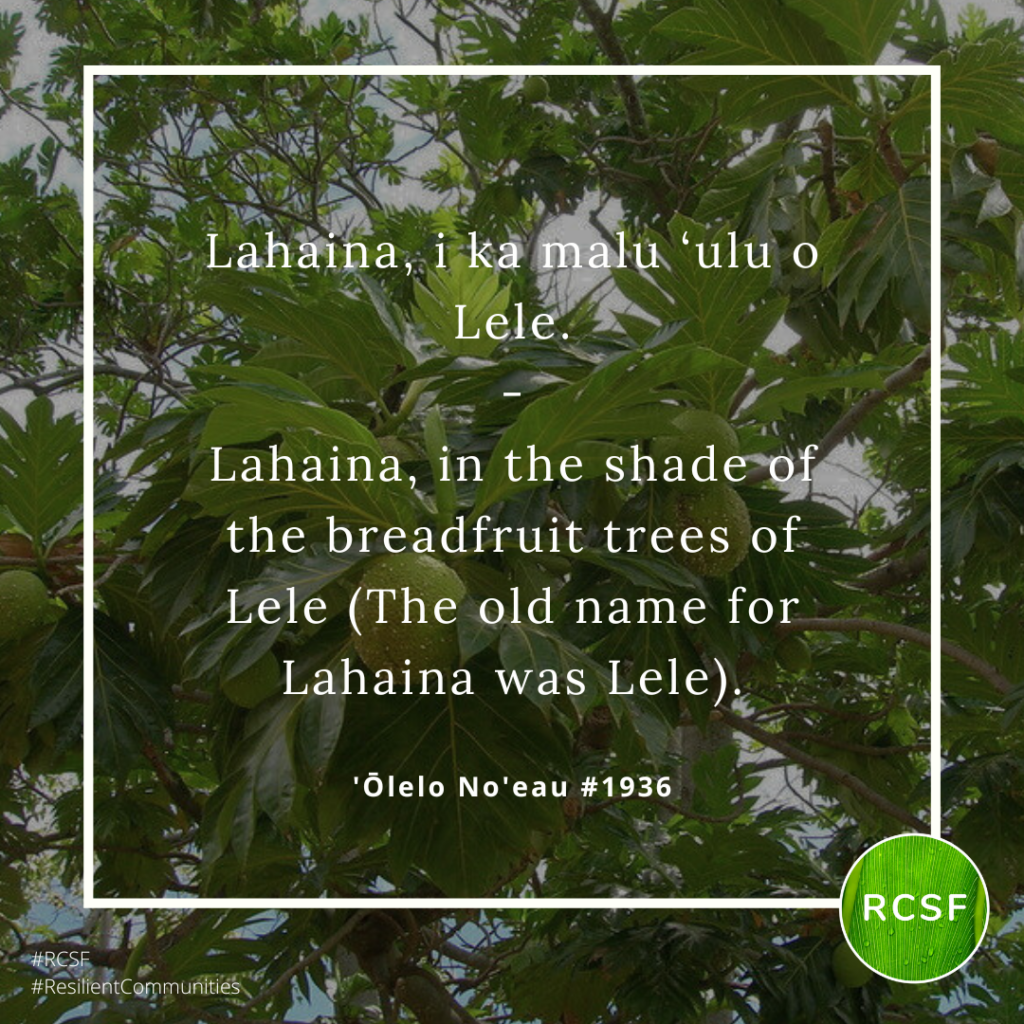 ---
Project Director's Message
Aloha e RCSF partners, supports, community and ʻohana,
Mahalo a nui as we all navigate this difficult time and continue to uplift our collective thoughts, pule/prayers and aloha to Maui. We grieve and mourn with a collective kaumaha (sadness). It is through community, collective work and pilina (reciprocal relationship) to each other, our ʻāina and environment that we ground and work to begin to heal. We will continue to uplift our pule and aloha for the long term to kākoʻo (support) Maui.
The ʻŌlelo Noʻeau (wise saying) featured above states: Lahaina, i ka malu 'ulu o Lele. Lahaina, in the shade of the breadfruit trees of Lele. The old name for Lahaina was Lele. I am continually learning about different ʻāina on Hawaiʻi Island where I live and other moku (islands) and am continually amazed by the thoughtfulness, foresight and intention of our kūpuna (ancestors) to document our life ways and values in these sayings. I had no idea that Lāhainā, the former capital of the Hawaiian Kingdom, was surrounded by groves of abundant ʻulu (breadfruit) and loko iʻa (fish ponds). What a beautiful and bountiful image of collective community abundance!
I am reminded of the moʻolelo (story) of Kū and the kumu ʻulu (ʻUlu tree). If you are not familiar with this moʻolelo, here is a link to this story in ʻŌlelo Hawaiʻi and in English. This is a story of adversity, sacrifice and love of ʻohana. As our community faces this incredibly challenging time, may we remember the personal sacrifice of Kū for his beloved ʻohana (family) to transform his bodily form into the ʻulu tree. The personal sacrifice of everyday leaders to transform their garages into Kānaka Costco, organize donations and mobilize monetary donations to affected ʻohana is a great sacrifice and incredible community-based support. Lift up a mahalo to these leaders – gratitude is so powerful during these stressful times.
May we also uplift the love of ʻohana and sharing for community benefit. Just as Kūʻs ʻohana shared the gift of the kumu ʻulu with their community, we all have gifts to share in support our ʻohana, schools and community. Please share this moʻolelo with your keiki and ʻohana and ask them – what gifts do they want to share? What is your superpower to kākoʻo (support) each other and Maui? We are all needed and an important piece in the collective, long-term work. Please share generously, following appropriate protocols, when called upon and invited to do so, now and in the future.
As mākua (parents), ʻohana and community members during this incredibly stressful time, please remember to take time to practice self care and community care. Simple reminders to drink water and eat foods that help you feel good and feed your body, mind and soul. Move your body even if it is just going outside and feel the sun on your face. Listen and take care of each other during this time, especially our keiki who may have feelings and emotions they donʻt yet know how to express. Ground in your spiritual and cultural practices. Lean on your community and trusted supports during this stressful time and ask for help, if and when needed. More resources are listed below.
The Resilient Communities, Schools and Families project sends our love and deep aloha to our partner school Pāʻia Elementary/Kula Kaiapuni O Maui and our health partners at Hui No Ke Ola Pono on Maui. Pāʻia School is busy welcoming new students into their supportive and aloha-filled learning environment. The Hui is mobilizing to meet health care needs and receive monetary donations and basic necessities for their community. If you are inclined to make a monetary donation to support the Huiʻs work, it would be most greatly appreciated. The RCSF project stands ready to mobilize our partners in support at the appropriate time with our collective gifts and superpowers.
Lahaina, i ka malu 'ulu o Lele. May we once again enjoy the shade of Lāhaināʻs kumu ʻulu grown by its collective community abundance. Ola!
Mālama pono,
Dawn Rego-Yee, RCSF Project Director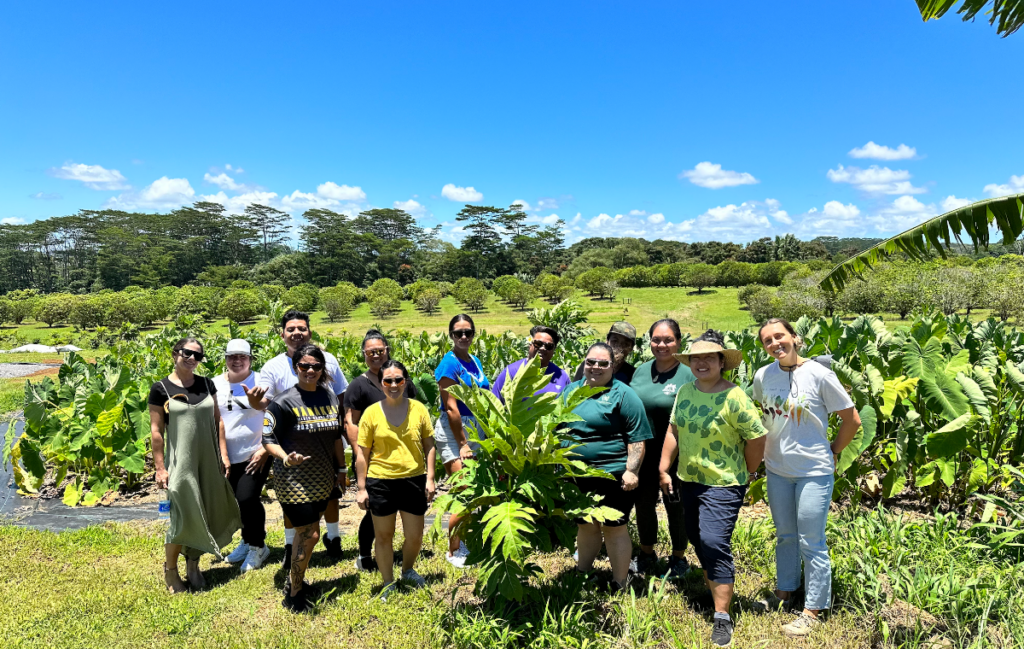 ---
Maui-specific resources
Over the past few weeks, it has been truly inspiring to see the outpouring of support and aloha for the Maui community and other areas in the state impacted by wildfires. After the initial surge of information and resources, the RCSF team wanted to help organize what we've seen so that you can share specific elements that match with particular needs. There is no one right way to support, and we've offered resources that range from very structured to more organic. No matter how you get involved, we're grateful for your partnership.
Monetary/financial
Services
Legal Assistance: Disaster Legal Hotline (Maui residents & Hawaiʻi Island): 808-533-2773
Housing for displaced Maui ʻOhana
Hawaii Public Housing Authority emergency website
SNAP Hot Foods Waiver
Hawaii DOE staff counseling services
Looking for someone? Call 1-800-redcross, #4. They are taking DNA from family members to match with bodies found in the burned area.
Anyone needing Disaster Assistance should call 1-800-621-3362 to register. There are over 3,000 already registered. FEMA has 10 inspectors that will be interviewing claimants.
Give and get support through Maui Nui Strong
Confirmation from DHS that the American Red Cross will provide housing to non-citizens (and undocumented)
For those getting their FEMA relief denied: Families living in multigenerational households applying for relief and having the same address must show proof that their lease is different from the other family that also submitted FEMA relief under the same address. For questions re: the application, contact maria_rallojoy@hirono.senate.gov (Also can be used if COFA migrants can't get their I-94. Access online here.)
Roots Reborn Lahaina: Assisting with Spanish translations at War Memorial
Mexican Consulate: Providing support for people whose passports were destroyed in the fire
Maui Immigration Law: Providing pro bono for document replacement services
USCIS Maui-specific: D41CommunityRelations@uscis.dhs.gov
Domestic violence shelter on Maui is operational; can assist with protection orders, family courthouse in Kahului is open
Facebook: Maui Wildfires Multilingual Information Hub
Facebook: Maui Fire, Flood and Disaster relief group
Supplies
Students/kids
---
Healing and self-care for all
Even for those not directly impacted by the wildfires, there is no doubt that the broader Hawaii community has experienced a form of collective trauma. This can be especially felt by families and schools as they communicate and support kids already going through emotional development. To that end, these resources are intended for a broader audience with the hope they can help with navigating through these unique challenges.
---
Take Action
The long-term goal of the Resilient Communities, Schools and Families project is to build long-term resilience, well-being and community abundance. As such, the project goes beyond communities and children merely surviving difficult situations, but instead finding their own strength and thriving. We hope to cultivate a spirit of hope and possibility to support the holistic wellbeing of the students of today and tomorrow. Please let us know if you can join this movement.
Don't forget to follow the project on social media!
Facebook (Designed as a group vs page to enable more community discussion and engagement): https://www.facebook.com/groups/resilientcommunityhi
Twitter: @RCSFHawaii
Instagram: @ResilientcommunityHI
---
Consortium Partners

---
Mahalo!
This work is a true community effort and is made possible through the generous support of our partners, including:
Hawaiʻi Resilience Fund at the Hawaiʻi Community Foundation
The Harry and Jeanette Weinberg Foundation
U.S. Department of Education Native Hawaiʻi Education Program #S362A210059