With the dawn of a new year, we know the horizon is full of endless possibilities. While traumatic and challenging events never seem far away, the opportunity is also ripe for positive individual and societal change. We're hopeful that 2023 will be an uplifting and empowering year for Hawaii's communities, schools, and families, so please stay tuned for new examples of resilience from classrooms and beyond.
---
Opening Message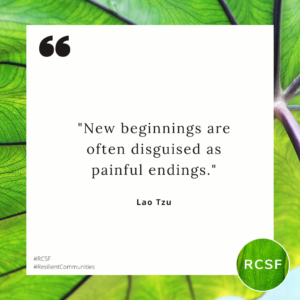 ---
RCSF talk story opportunity: Feb. 27
Our project relies on the power of human connection, which is why we are excited to offer quarterly opportunities to talk story with our team and learn how the project is having an impact. The first event is coming up on Monday, February 27 from 3-4pm HST, so don't wait to register today!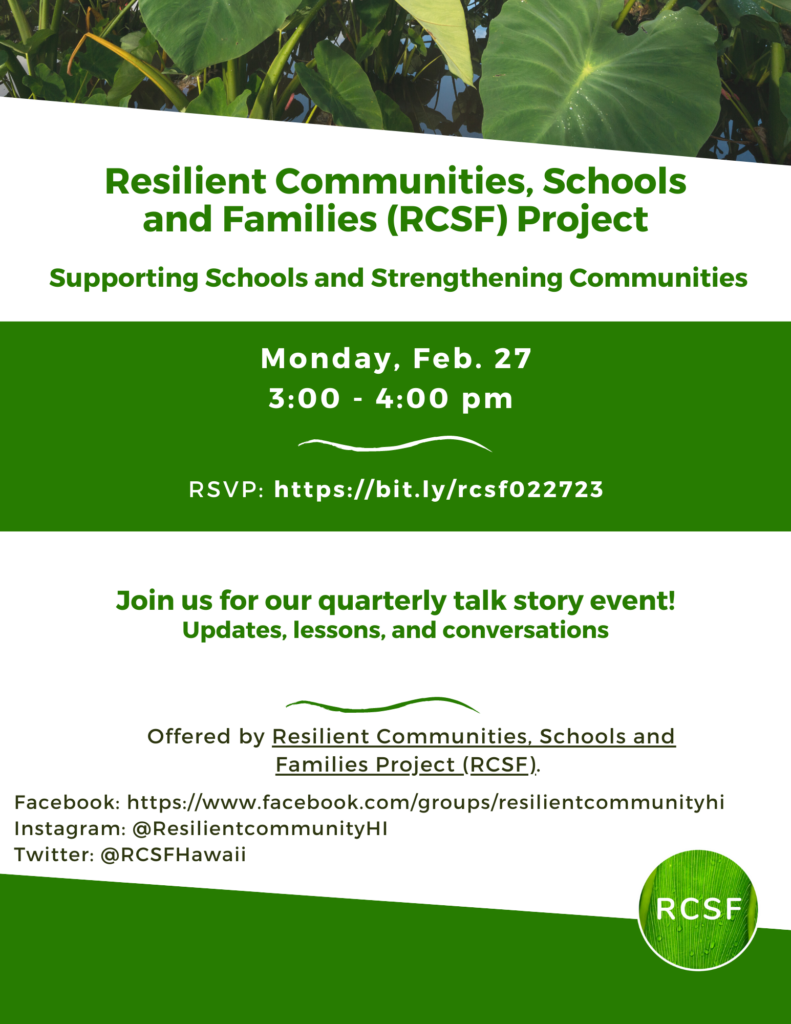 ---
2023 Legislative Session
One of the goals of the RCSF project is to promote a vision of statewide trauma-informed and whole child education, which is why we supported the creation of a state Office of Wellness and Resilience (OWR) last legislative session. The OWR will help to break down silos and increase cross-sector collaboration and alignment, including between government, non-profit organizations, philanthropic funders, faith groups, and the broader business sector.
We were thrilled that RCSF team member Tia Roberts Hartsock was appointed as the first director of OWR, and we know she is uniquely experienced to bring this new office to life. In order to make sure this office is sustainable and impactful for many years to come, we urge our supporters and partners to support HB487 and SB894 this session. This bill codifies important logistical changes to the OWR that provide clarity on operations into the future.
We would also strongly encourage folks to support HB55, which would help to expand Community Schools across Hawaii.
We will use our newsletter to provide updates on these bills and recommend support for additional measure. Here is a comprehensive guide from the Legislative Reference Bureau's Public Access Room on how to navigate the Capitol's website in order to track measures, provide testimony, and find many other key pieces of information.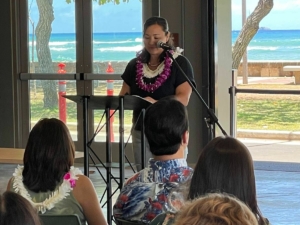 ---
Community Schools Expanding
While new legislation would assist in the expansion of the Community Schools Model in Hawaii, much progress has already been made. RCSF partner Hawaii Afterschool Alliance has provided invaluable leadership for the State Coalition For Community Schools, which convenes educators, policymakers, and advocates around a north star of having Community Schools across the state. The coalition highlighted the incredible growth of Community Schools in Hawaii, jumping from 3 schools in 2019 to 23 in 2023. We encourage you to join the coalition, so please contact Jennifer Masutani at jm202@hawaii.edu to RSVP for the March 13 meeting and interest session.
We think this is a really exciting time for the Community Schools movement, with growing momentum also on the national level. We're looking forward to great Community Schools one day becoming available to all kids in our education system.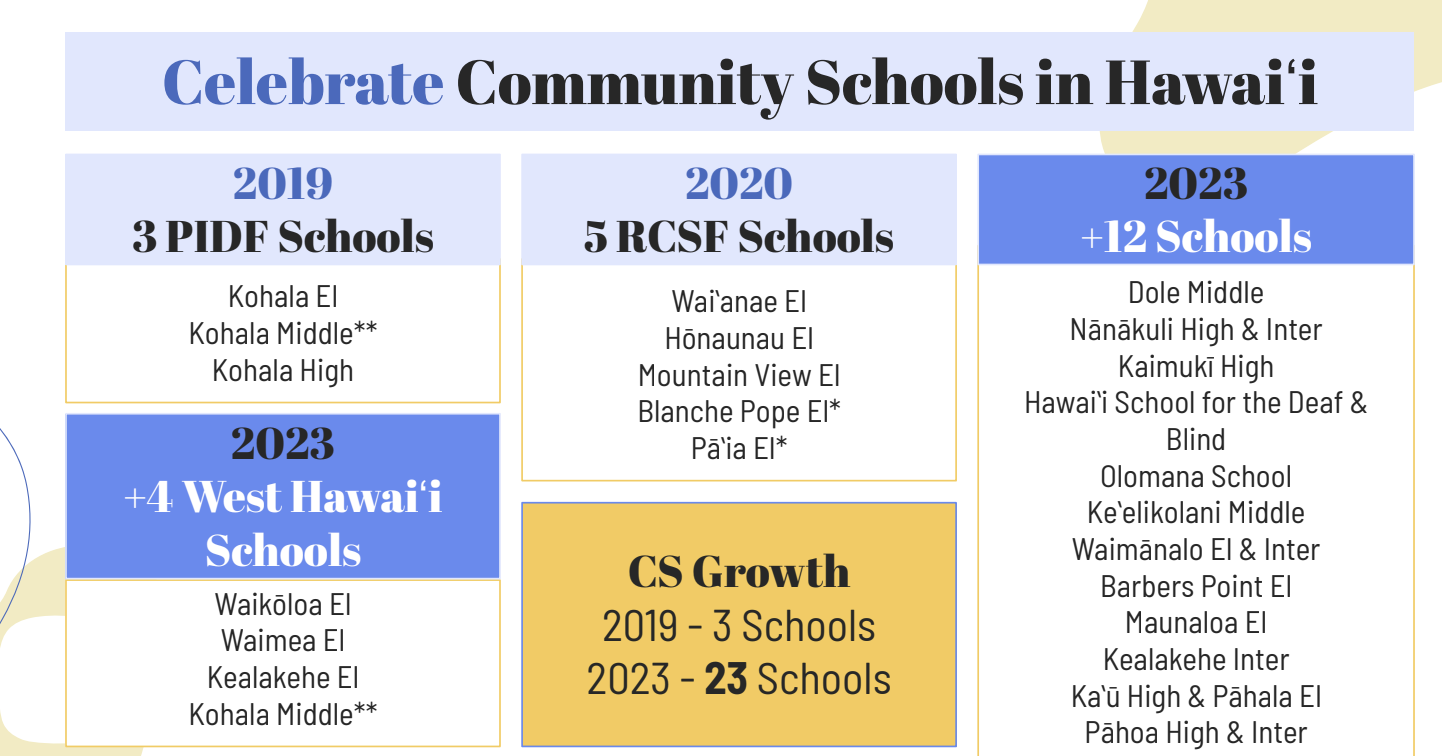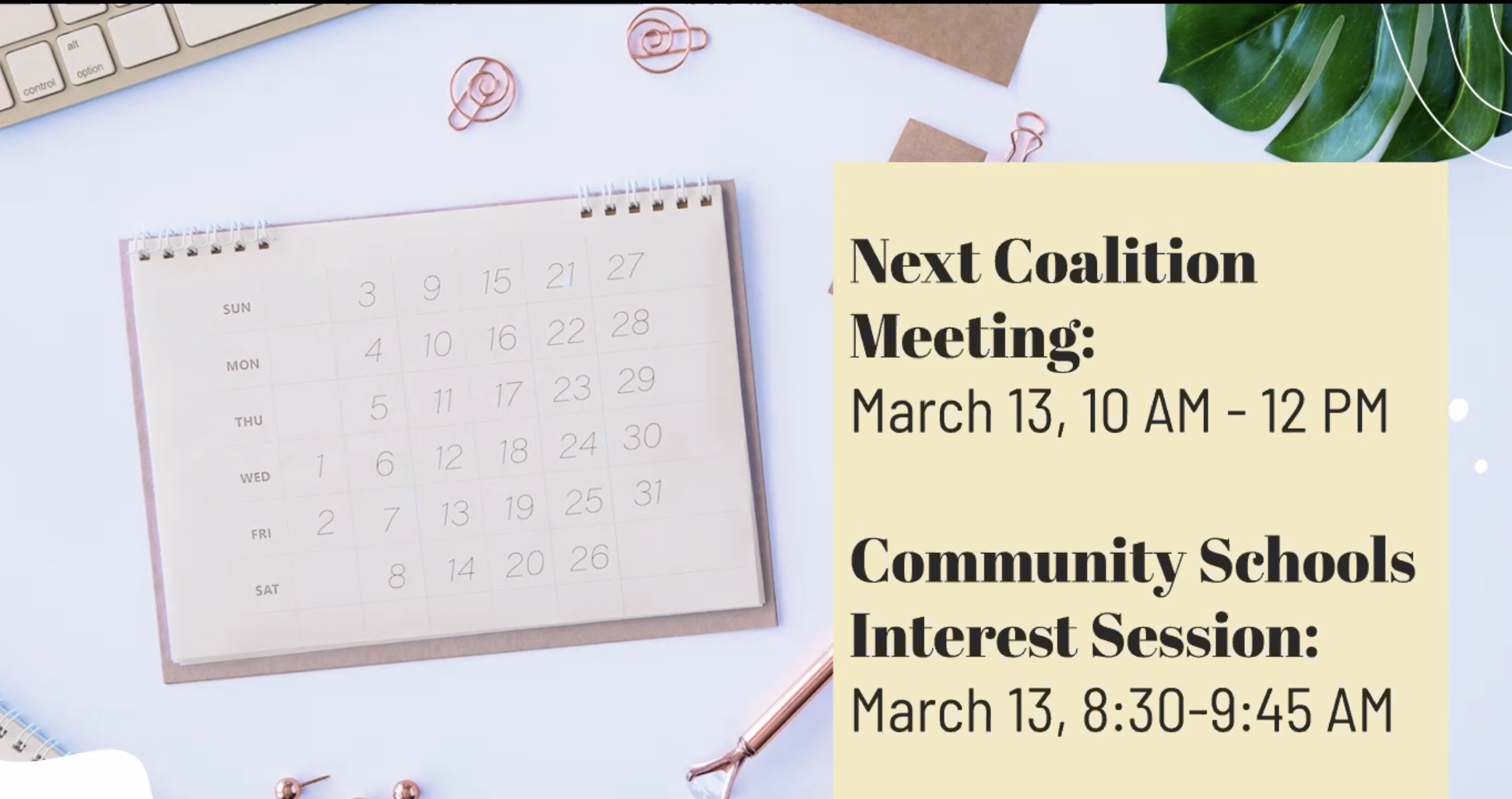 ---
Resilience Resources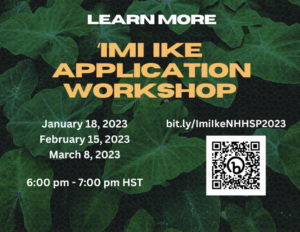 Join RCSF partner Papa Ola Lokahi and learn more about the ʻImi ʻIke Native Hawaiian Health Scholarship Program. This is a great opportunity for Native Hawaiians interested in a career in healthcare. Virtual information sessions start soon, so be sure to sign up now.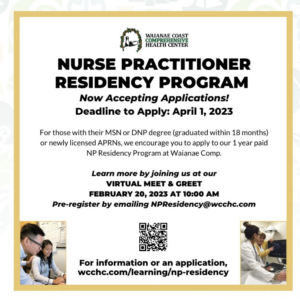 The Waianae Coast Comprehensive Health Center's Na Lei Kukui Nurse Practitioner Residency Program is a fantastic post-graduate residency program for new family and adult nurse practitioners to expand their competency to deliver comprehensive, patient-centered primary care services. Applications are open now, so we encourage folks to check out info sessions and the application deadline.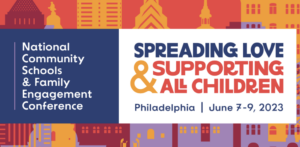 The Institute for Educational Leadership (IEL) is proud to host the 2023 National Community Schools and Family Engagement Conference in Philadelphia! While it's a long flight, we know this will be a great opportunity to learn what is possible in schools everywhere.
---
Take Action
The long-term goal of the Resilient Communities, Schools and Families project is to build long-term resilience, well-being and community abundance. As such, the project goes beyond communities and children merely surviving difficult situations, but instead finding their own strength and thriving. We hope to cultivate a spirit of hope and possibility to support the holistic wellbeing of the students of today and tomorrow. Please let us know if you can join this movement.
Don't forget to follow the project on social media!
Facebook (Designed as a group vs page to enable more community discussion and engagement): https://www.facebook.com/groups/resilientcommunityhi
Twitter: @RCSFHawaii
Instagram: @ResilientcommunityHI
---
Consortium Partners

---
Mahalo!
This work is a true community effort and is made possible through the generous support of our partners, including:
Hawaiʻi Resilience Fund at the Hawaiʻi Community Foundation
The Harry and Jeanette Weinberg Foundation
U.S. Department of Education Native Hawaiʻi Education Program #S362A210059