Last month we co-hosted Spark & Inspire with Teach For America Hawaiʻi, we had such a fun night at our first ever Spark & Inspire event, we would like to re-live the night and share a recap with you. Thanks to the talented Saber Media team from James Campbell High School for this wonderful highlight video.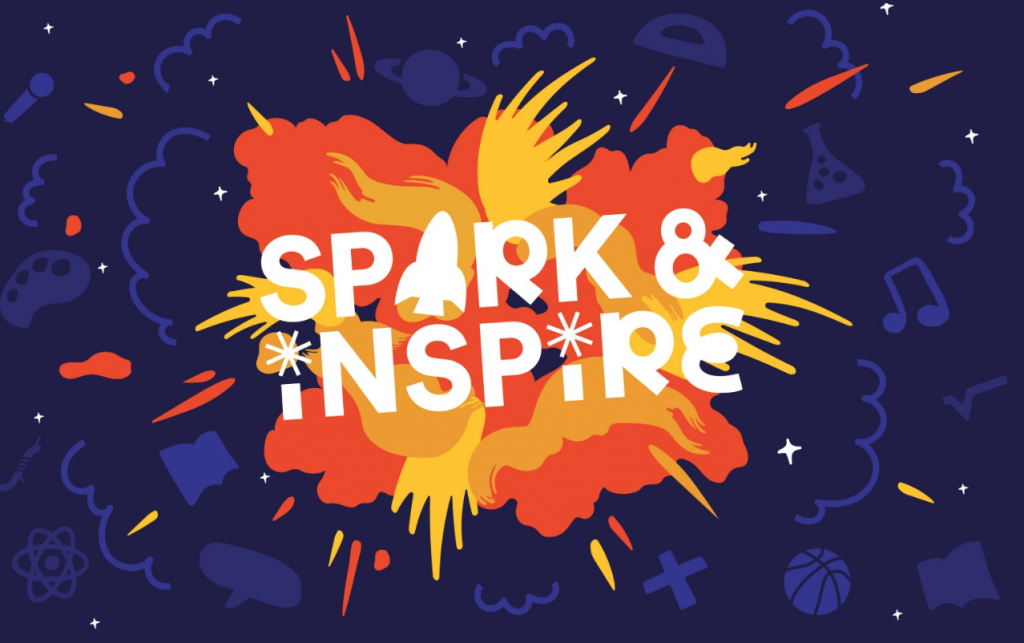 Click here for the highlight video
If you missed the live event, no worries because 'Ōlelo recorded the night, and we posted it on our YouTube Channel, click on this link to check it out.
What is an "eduprenuer"?
Kicking off the evening, executive director for Teach for America Hawaiʻi, Jill Baldemor, and our very own David Miyashiro explained the meaning of "edupreneurs." Essentially, they are innovative educational professionals who have game changing ideas for education. We also explained that the evening was not just a showcase of talented edupreneurs, it was a community gathering intended to spark innovation in our broader educational community and inspire others to dream big and go for it!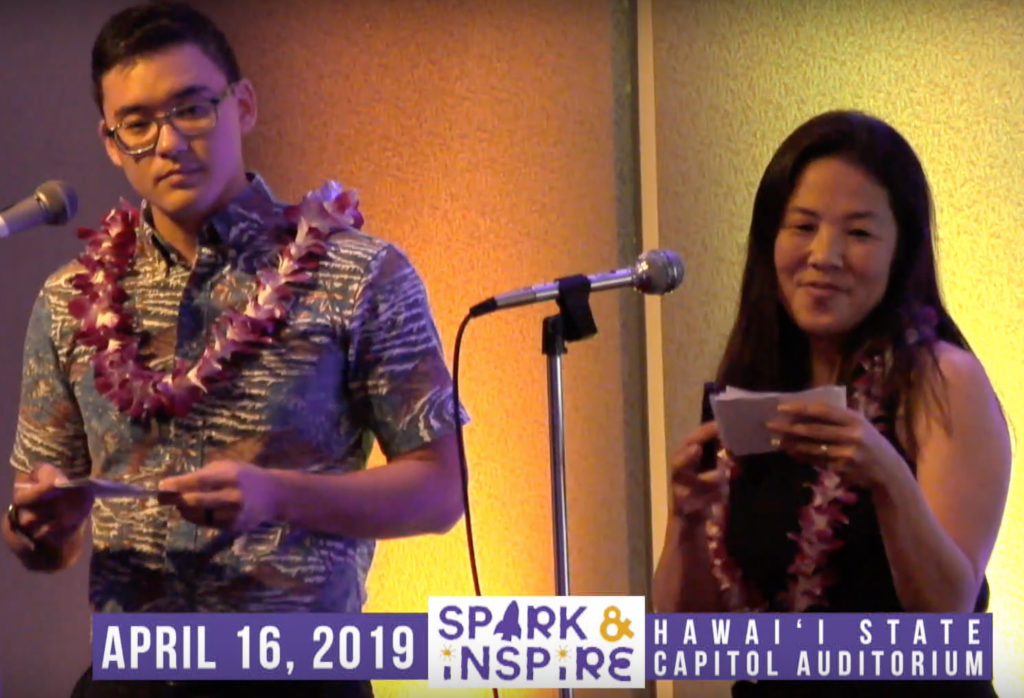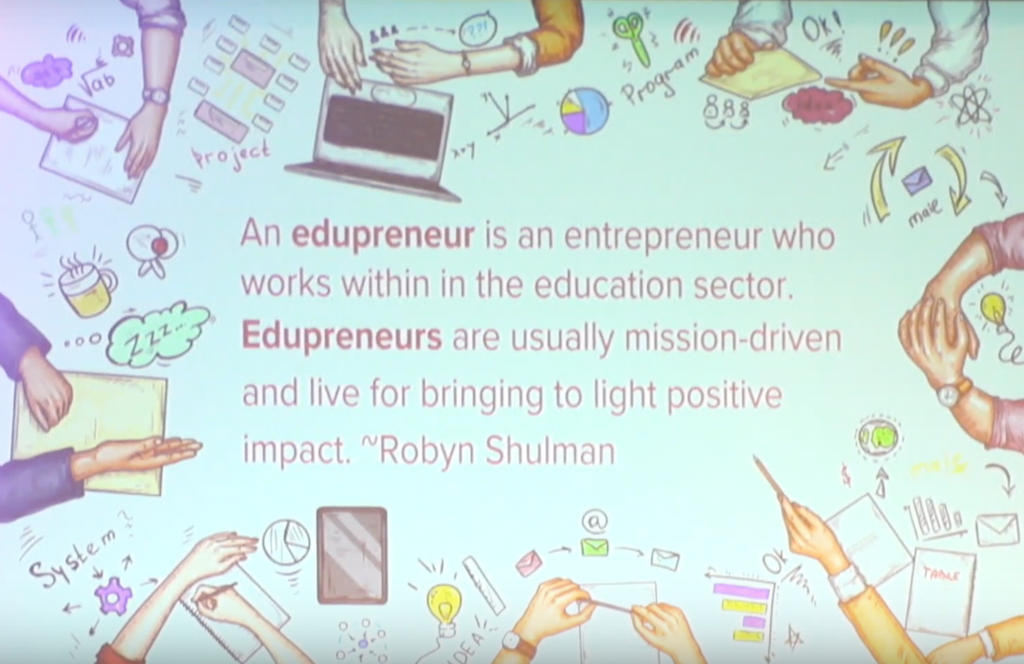 Edupreneurs presented four projects–and let me tell you, presenting at Spark & Inspire is no small feat. It took a great deal of work. Edupreneurs had to submit an application and go through an extensive coaching process over several months!
During the event, edupreneurs had five minutes to present their project and ask for advice from an all-star panel of expert advisors. After each presentation, advisors had the chance to give feedback and suggestions to our presenters. Here are some highlights of the projects presented and a moment after each presentation where an expert panelist offered advice, questions, or commentary.
---
South Kona Community Health & Education Center
Christopher Pike, Hōnaunau Elementary, TFA 2014
Christopher has been working with his complex area to establish the first school-based clinic on Hawaiʻi Island. They are now looking to develop the clinic into a full service health center that can service the entire South Kona community. This includes offering behavioral health services, parent resources, and community spaces. John Komeiji, President and General Manager of Hawaiian Telcom asked, "I was wondering if you had developed a structure for community support for your program or some sort of structure to engage the parents, faculty, whoever to create a broader base of support."
Christopher replied, "We rely on our partnerships like I just talked about. One of the partnerships we've worked with the most is the Blue Zones initiative. At our school we've been hosting family wellness nights, where the families come in. They can learn hularobics, Zumba–we've had celebrity cooks/chefs and cooking contests…We are looking for holistic health for the whole child, not just what can we do in the medical field, but also how we can promote wellness in families."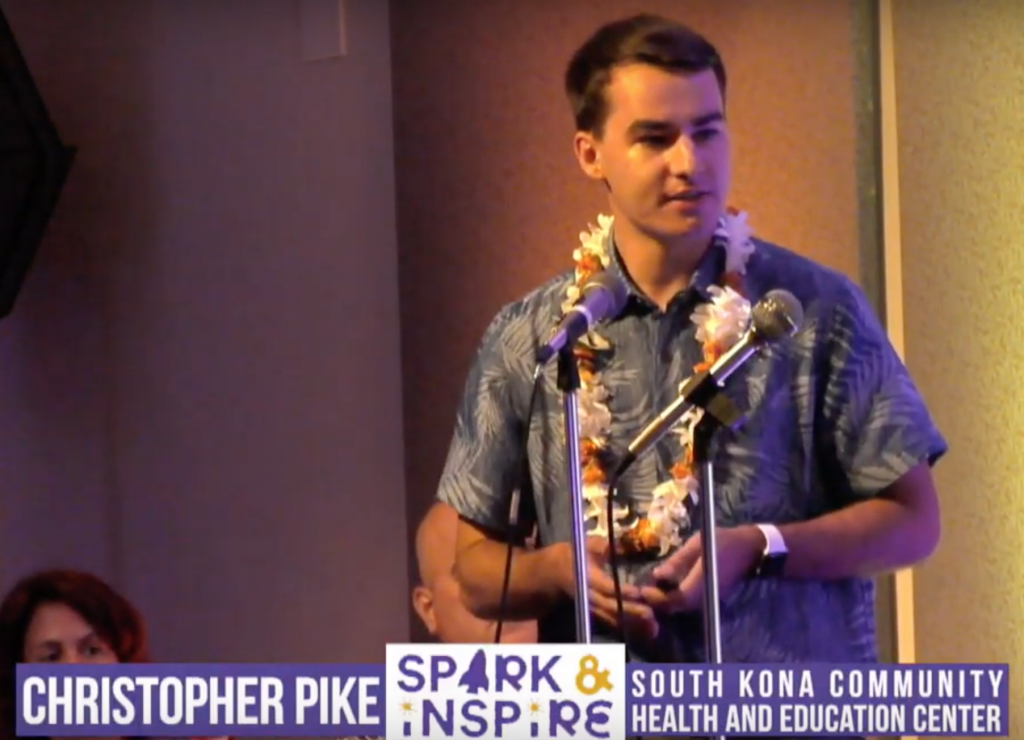 ---
Maestros Vibe
Juan Espinal, Konawaena Elementary, TFA 2012
Karina Hernandez, Konawaena High School, TFA 2014
Kevin Argueta, Kahakai Elementary, TFA 2012
Terry George, President and Chief Executive Officer of Harold K.L. Castle Foundation asked, "I'm the funder guy, we love theories of change…Can you tell us a little bit more about how your podcast is going to really help increase connectedness and therefore increase teachers' willingness to stay in the classroom, which is so important?"
Juan replied by comparing Maestros Vibe to sports, "If I can bring it back to sports. I think sports gets elevated by the commentary on sports. I believe schools are very powerful, and I think they could be elevated if there's more commentary and conversation around them. Kona/West Hawai'i actually has some of the lowest retention levels as of last year. So we do believe that just making that hui…will build that connectedness, and make people realize we are all part of this together in that same canoe."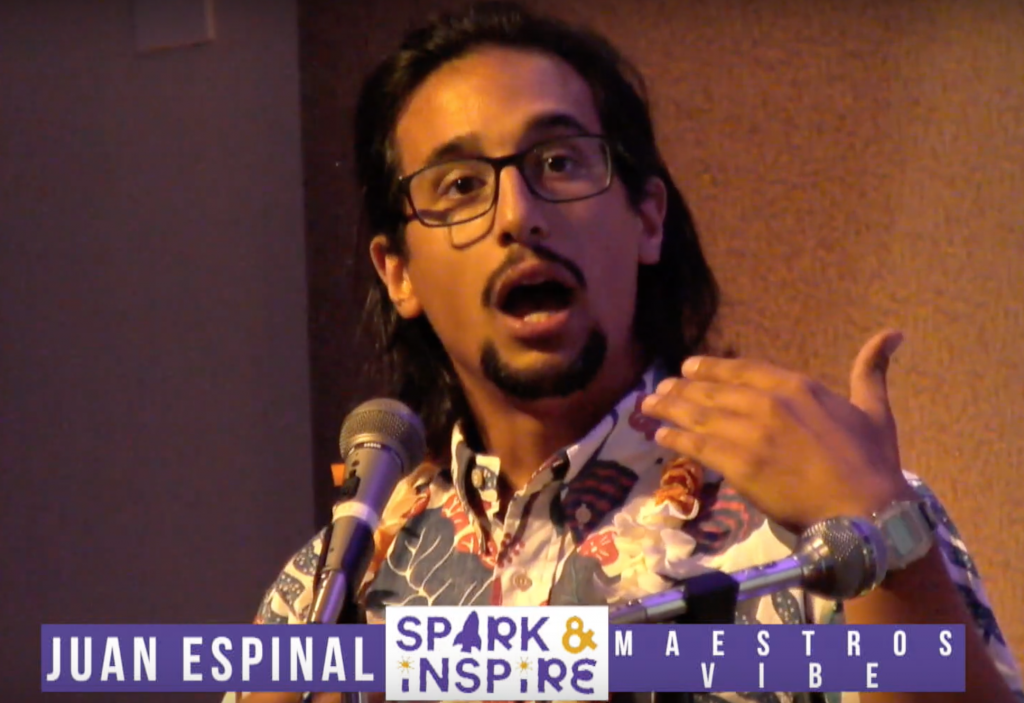 ---
Mālama Based Learning
Brigitte Russo, Waiʻanae Intermediate, TFA 2015
For her project, Brigitte adopted an acre of park at Keawaʻula. She is working to make this space a living lab for her students, removing invasive species, improving the land, learning the history of the place, and changing mindsets about the beach. She hopes her students will be able to grow seedlings of native plants themselves one day to replant at Keawaʻula.
Catherine Payne, Chairperson of Hawaiʻi State Board of Education commented on how Brigitte's approach to science is inspiring, she asked, "How has your work influenced your colleagues?"
Brigitte credited her principal and academic coach for enabling her and sharing the same vision. "We really have teacher buy-in, and a lot of us are doing it. We are actually working…to make sure we infiltrate our whole school." She also explained how moving to new project- and phenomenon-based science standards has helped, "Having a moʻoleo as your phenomena and then kids having to dig in and problem solve or figure out what's happening, really does help."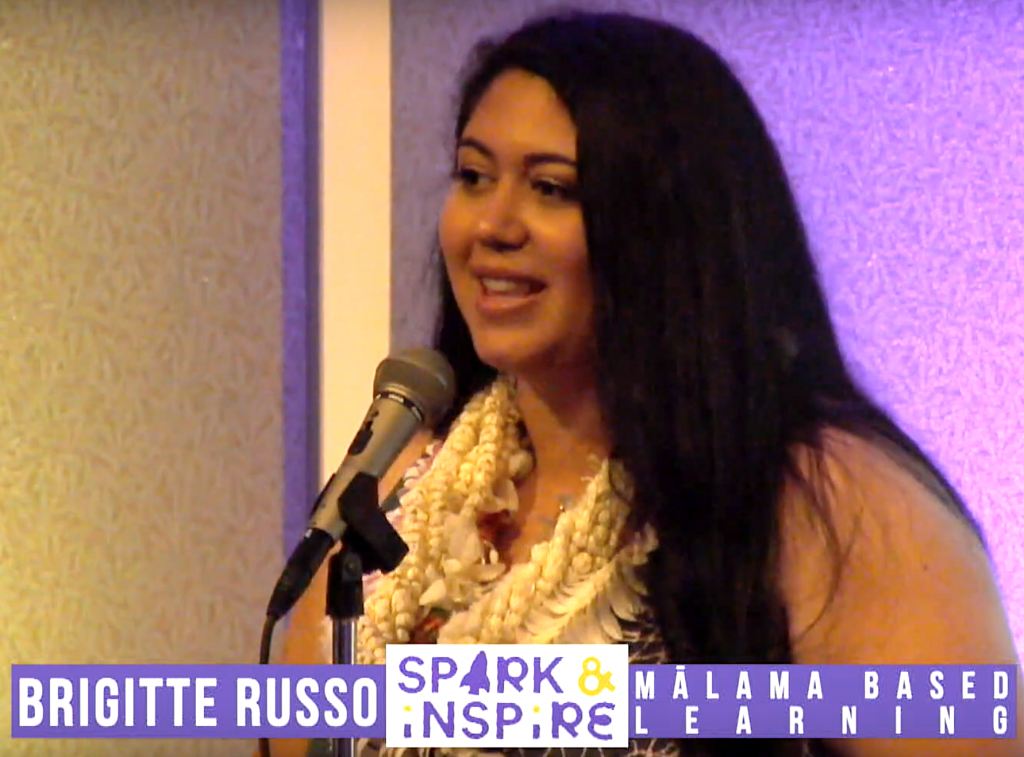 ---
Ka Hale o ka Lanakila
Bill Chen, Kahakai Elementary, TFA 2013
Mathieu Williams, Kealakehe Intermediate, TFA 2012
8th Graders Kaninau Akana and AJ Rosario
Bill and Mathieu's project seeks to create a shared learning space for students from multiple schools to lead and explore their learning in the areas of STEM, media, and culture. In this learning space, students will be able to access resources and community experts and fuel their learning. They are co-designing this project with students, families, and community members. Dr. Christina Kishimoto, Superintendent of the Hawaiʻi Department of Education asked a question specifically to students Kaninau and AJ, "Student voice is extremely important for me. From your perspective, what are the most important elements to creating curriculum or learning experiences for students that are really engaging, really interesting–what do teachers need to do everyday?"
AJ Rosario thoughtfully replied that teachers need to build relationships. "Relationships are the heart of all learning. That's kind of what we go by at Kealakehe Intermediate School. If we're able to have strong relationships with the students, they will find their deepest passions and they will be able to move on in life and feel confident knowing they will always have someone with them that they can refer back to and ask questions."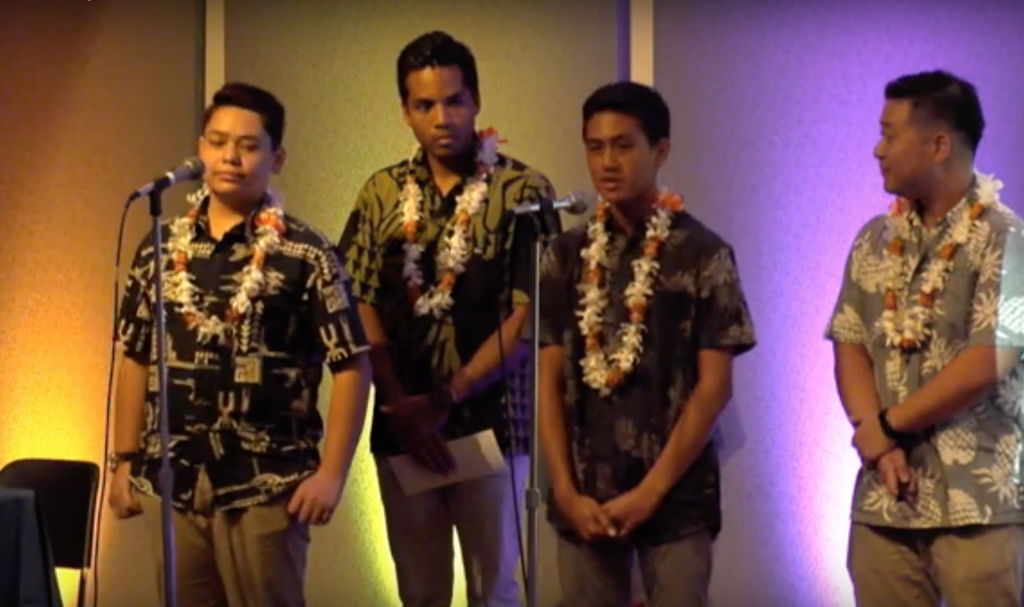 ---
From ideas to community action
After the presentations, each edupreneur received a $2,000 start-up grant towards making their project plans a reality!
If you want to take an active part in making these projects a reality, here's a summary of the needs shared by our edupreneurs.
South Kona Community Health & Education Center
• Assistance advertising the Center's services to the community
• Funding for additional equipment (e.g., refrigerator for vaccines) and staff
• Help getting necessary approvals from the State and Hawaiʻi Department of Education
Maestros Vibe
• Mentoring and guidance to help the podcast grow
• More people to share, subscribe, and rate Maestros Vibe
• Production funding to get the team out of the basement and into a studio
• Volunteer guest speakers
Mālama Based Learning
• Equipment funding for things like hand saws, gloves, shovels
• Field trip transportation (bus rentals cost $408 for one field trip)
Ka Hale o ka Lanakila
• Access to a 30′ x 30′ facility in the Kailua-Kona area
• Media equipment for the students to use
• Volunteers to serve as community resources for students
---
Special shout outs
The night ended with a time for networking. Audience members had a chance to interact with the edupreneurs and sample some ono dishes from Campbell High School culinary students!
We could not have made this happen without the help of our community partners and sponsors. We'd like to give a warm mahalo to the team of coaches who generously donated their time and expertise to help support our presenters in crafting and delivering their project pitches. The coaches for each presenter were:
South Kona Community Health & Education Center

Mahinapoepoe Duarte, The Waiwai Collective
Kauʻi Kanakaʻole, Ala Kukui

Maestros Vibe

Kuhaʻo Zane, Sig Zane Designs & SigZaneKaiao
Gabe Amey, Hawaii VA Loans & RISEHI Foundation

Mālama Based Learning

Keoni Lee, Hawaiʻi Investment Ready & The Waiwai Collective
Kamuela Enos, MAʻO Farms

Ka Hale o ka Lanakila

Kaʻiu Kimura, ʻImiloa Astronomy Center
Kelea Levy, Kaupena Wai
Mahalo to our expert advisors for their thoughtful insights and questions!

Catherine Payne, Chairperson, Hawaiʻi State Board of Education
Dr. Christina Kishimoto, Superintendent, Hawaiʻi State DOE
Ian Kitajima, Director of Corporate Development, Oceanit
Jack Wong, CEO, Kamehameha Schools
John Komeiji, President and General Manager, Hawaiian Telcom
Micah Kāne, President and CEO, Hawaiʻi Community Foundation
Terry George, President and CEO, Harold K.L. Castle Foundation
We'd also like to extend a special mahalo to the office of Representative Takashi Ohno for helping secure our venue, the West Hawai'i Complex Area for hosting a viewing party on Hawai'i Island, Costco Wholesale for presenter refreshments, and Elena Kawaiʻalauluwehionaona Farden for moderating our program.
We couldn't have had this inspiring evening without so much kokua from James Campbell High School and our sponsors. Mahalo for your support!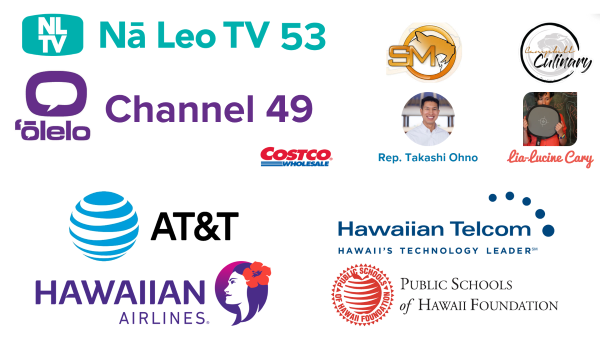 What an amazing event, we hope it sparked innovative ideas and inspired you to go for those dreams. If you'd like to learn more about the projects that were presented, please email us at info@hawaiikidscan.org and we'll put you in contact with our edupreneurs!