In a year as unpredictable as this–with the pandemic, contentious elections, and calls for social justice across the country, it can be frustrating to be young in 2020. Youth younger than eighteen aren't allowed to vote and many are at home in order to ensure the safety of themselves and their community during the pandemic; however, students across the island are stepping up to the plate and finding ways to voice their concerns. By either getting involved in advocacy programs or advocating themselves, youth have proven that even if you are under 18, and self quarantining at home, there are many ways to get involved in public policy and make the change you would like to see in your community. I'm honored to have worked with amazing youth across the state. Over digital platforms, we have been able to accomplish incredible feats of advocacy despite the difficulties of 2020. 
From getting involved in the election to educating themselves on Hawaii's legislative process, youth across Hawaii have been busy working towards building the future they want to see. We are so excited to share some of the work we have done!
Hawaii Children and Youth Summit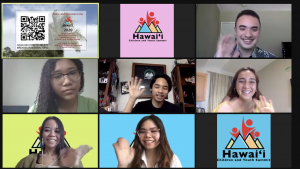 The 2020 Hawaii Children and Youth Summit (HCYS) is a two-day event that ran from October 8th to October 9th where youth from across the islands came together to determine the priorities they wanted to share with the Keiki Caucus, a working group of the Hawaii State Legislature that is tasked to represent issues that are important to the youth of Hawaii. At the Hawaii Children and Youth Summit groups were divided into five focus groups: 1) Healthy Mind Healthy Body, 2) Housing and Homelessness Issues, 3) Equality, Diversity and Safety, 4) Education, and 5) The Environment. In each of these groups, youth discussed specific actions that should be taken in their community to create the change they want to see.
I had the pleasure of mentoring one of these groups and what I can tell you is that it is hard to contain all of the passion and excitement these students have in a single Zoom session. All of the participants were eager to share their ideas and collaborate even though they had never met before. In the group I led, equality diversity and safety, the students discussed from personal experience how important it was to them to create a safe environment in school for all students to feel comfortable in their own skin. They decided to make implementing additional education about consent, boundaries, and LGTQIA+ issues in sex ed that starts in 5th grade and continues through high school, a priority.  After the two day event, many reminisced explaining that they had felt the Zoom session I co-hosted was a safe collaborative space that gave them a feeling of freedom and empowerment in a time of isolation. Each of the ideas that came out of the groups were formed with care and passion.
The top two issues from each group were presented to an audience of over 70 youth from across the islands, and youth were asked to vote on the top issues they cared about. The top two most voted on issues are allocating funding for localized and community-based composting/recycling centers and creating quarterly school town halls where students, parents, and community members can voice their concerns and suggestions to the superintendent. For more information about the Hawaii Children Youth Summit and how we came to craft the issues that youth voted upon check out the HCYS website: www.hawaiicys.org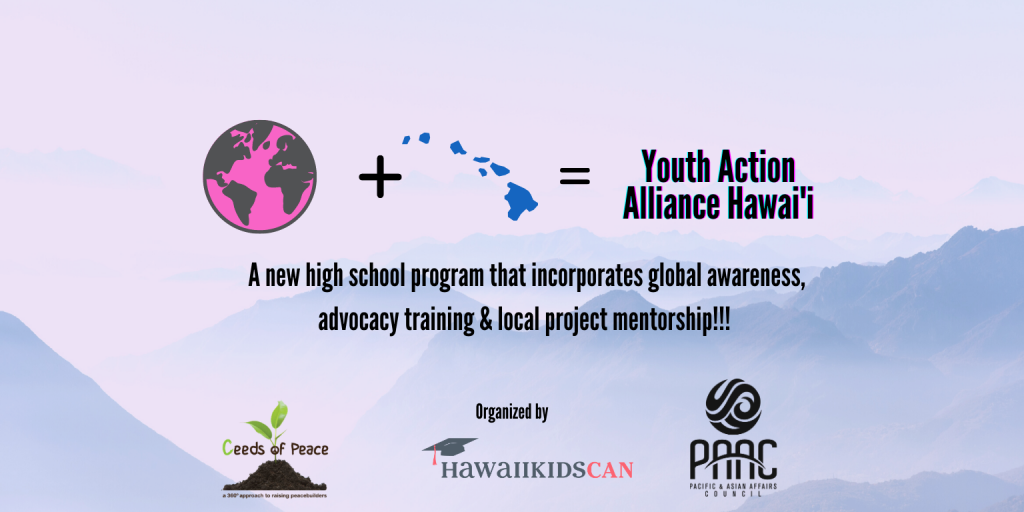 HawaiiKidsCAN, Ceeds of Peace, and the Pacific & Asian Affairs Council (PAAC) came together to create the Youth Action Alliance Hawaii (YAAH) –a program created for high school students who want to flex their leadership skills in civic engagement can learn about making community change through advocacy, and a unique project of their design. Youth are introduced to ways they take action and address issues in their community. HawaiiKidsCAN helps to empower the participants with the knowledge and tools used to advocate for change through public policy. Ceeds of Peace supports the students in their development of a Sustainability Action Plan. PAAC works with the students to contextualize local issues on a global scale. YAAH began meeting in September and will continue to meet throughout the school year. We are currently working with 30 students across the state! Stephanie Albana is a mentor at the YAAH program and had this to say about her experience:
"As a youth advocate myself, it's really important for me to be able to inspire other youth to advocate for what they believe in. Being in PAAC and HKC were some of the greatest parts about my high school experience, so I love working with them for YAAH as well. The YAAH participants are very intelligent, well-spoken, and open-minded. Each and every one of them bring a unique set of skills to the table, and I'm so excited to see how their projects grow." For more information on YAAH you can check out our program page, hawaiikidscan.org/yaah.
In response to the November election, youth leaders Anna Chua, Erin Enriques, Eric Jonah Lorica, and Lucy Fagan came together to create a comprehensive voter guide intended to encourage youth to vote and make educated decisions about this year's candidates. Their website layout makes it easy to navigate the election as they supply information to learn about the candidates and where they stand on important issues in Hawaii such as homelessness, education, sustainability, and so on. 
Erin Enriques, one of the creators of the voting guide had this to say on the collaboration process: "Creating Ho'ohuli felt very organic. It grew out of the Community Change Forums, where we gathered opinions on what youth want to change in their communities. Later I had a conversation with Ben Trevino, he's one of the leads for Sustainable Mobility Labs with HART. In that conversation, the idea of writing a voter guide came up. After bringing it up with a few other youth advocates we took on the venture of writing the guide. We recruited a lot of our friends to help write an entire voter guide in one weekend. It was chaotic but productively chaotic. Now we encourage people to use our guide to make informed voting decisions and to go out and vote. We also started a podcast of sorts called Flip the Script where we speak with experts on issues written in the voter guide. I'm very proud of what we have accomplished this year and I hope we keep this momentum going in the future."
Their website is titled "Hoʻohuli," a Hawaiian word that stands for creating positive change. They also hold community change forums where they bring together students and community leaders to talk about the issues they care about while using their voices to share personal stories as a form of advocacy. The Hoʻohuli Youth Voter guide can be viewed at www.hoohuli.org.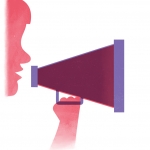 These programs have created safe, empowering environments for youth to meet and discuss; however, it is ultimately the student's ideas, collaboration, and willingness to share their personal experiences that have made all the difference. It is inspiring to see the initiative Hawaii's youth has taken this year and we are excited to see what will come from each of these programs.
____
About the author: Aleta Hammerich is HawaiiKidsCAN's Social Media intern. She is currently a student at the University of Hawaii studying Political Science and Creative Media.
Have questions or thoughts? Email: info@hawaiikidscan.org