HawaiiKidsCAN is proud to announce that three of our top priorities successfully passed this legislative session, as well as a number of secondary priorities. These wins were made possible thanks to strong partners at the Capitol and community advocates who spoke up again and again.
The last two years of pandemic disruptions have been incredibly hard for Hawaii's students, families, schools and the broader community. While lots of work remains to not just recover but increase equity, access and opportunity, the 2022 legislative session was a big step in the right direction.
Read below to learn more about these priority bills. We also need your help to get these bills signed into law, so please contact Governor Ige here and lend your support. Mahalo!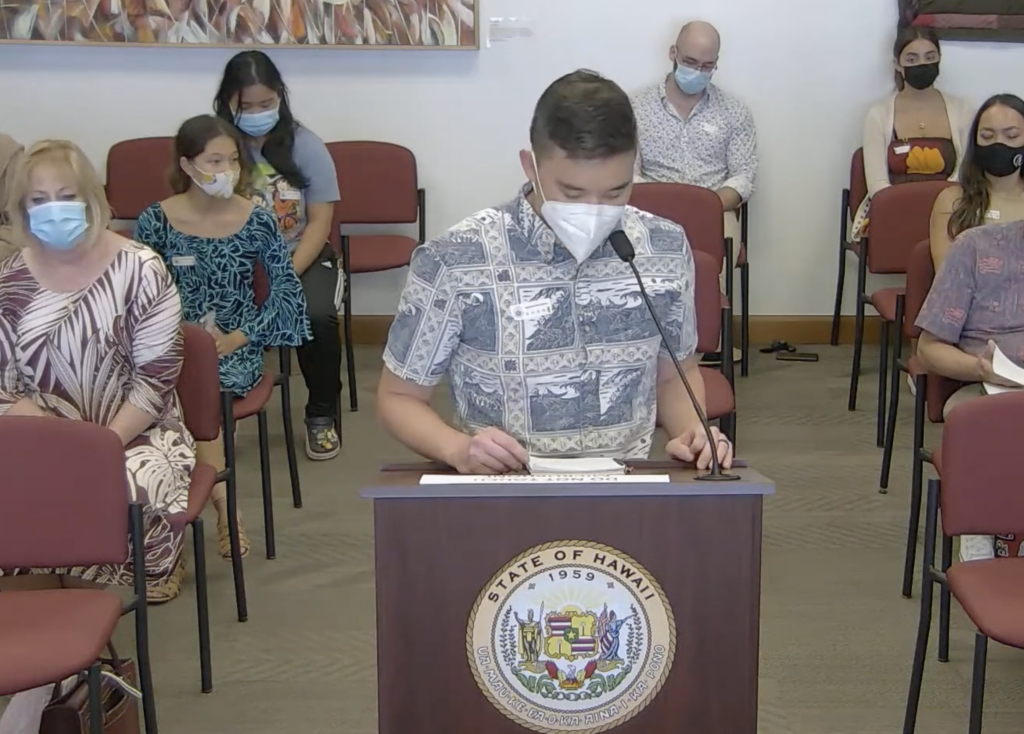 HawaiiKidsCAN works closely with legislators and advocates to introduce priority bills and support them throughout the entire legislative process. This year, only 328 bills were passed out of the more than 2,500 bills that were introduced, with HawaiiKidsCAN's priority bills being among them.
Win 1) SB2826: Boosting high-quality career readiness programs
SB2826 creates the first state-funded incentive program to reward schools for helping kids get ready for careers in growth fields by attaining industry-recognized credentials.
The legislature appropriated $2.6 million for this program, which is 26 times the budget we had in mind when drafting the bill!
SB2826 builds on a win from last session – SB516 – by harnessing career readiness data to improve opportunities for students when they graduate.
Win 2) SB2142: Growing the computer science pipeline
SB2142 makes computer science education credits count toward core graduation requirements, rather than just being electives. States that count computer science as a core graduation requirement see 50% more enrollment in their AP computer science courses and increased participation from underrepresented students of color.
The bill also appropriates $1 million to the University of Hawaii to create a scholarship fund that helps Hawaii grow our own computer science teachers.
This is the third computer science education bill (along with bills 2018 and 2021) we've passed in the last four full sessions (excluding the 2020 pandemic-shortened session), as we are fully committed to addressing the inequities we outlined in our initial State of Computer Science Education in Hawaii 2018 report.
Win 3) SB2824: Increasing diversity and innovation on Hawaii State Board of Education
SB2824 helps to build a future-oriented public school system by amending the qualifications to serve on the Hawaii State Board of Education (BOE), requiring that the BOE have representation of backgrounds in education, workforce development, critical industries to the State, emerging fields, energy, advanced manufacturing, health care, business, technology, entrepreneurship, real estate, finance, or organizational management.
With more diverse backgrounds on the BOE, we'll be able to break down silos and look across sectors like K-12, higher education, and the workforce to find creative, sophisticated solutions that put our kids one step ahead versus one step behind.
The bill also aligns BOE practices with national best-practices through organizations like National Association of State Boards of Education.
Secondary priority wins
SB2482: This bill creates a new state Office of Wellness and Resilience, which will receive nearly $1 million to help coordinate the complex response to trauma for children and adults. SB2482 has been a top priority of the Resilient Communities, Schools, and Families project.
SB2076: This bill moves the needle on closing the digital divide, investing in digital equity through $360,000 in the state's Broadband and Digital Equity Office and $200 million in the University of Hawaii system. We led the Policy Subcommittee for the Hawaii Broadband Hui this session in support of this bill and six other bills and resolutions that passed, and we coordinated nearly 20 pieces of joint testimony with more than 125 signatories.
SB2214: Another bill that helps to close the digital divide in Hawaii, as it establishes a digital literacy program to be overseen by the Board of Education and implemented by the state librarian to promote digital literacy through programmatic activities, including making digital technology accessible to individuals with disabilities
SB2821: We've been inspired by the work of grassroots advocates, such as the Maʻi Movement, local teacher Sarah "Mili" Milianta-Laffin, and students for improving gender equity in education through $2 million in free menstrual products in schools, which will help fight absenteeism and bullying.
Progress made
SB2816: Our family grant program made it to the last day of the conference committee period, but we couldn't secure a final agreement. We were proud that the bill made it this far and that there was clear interest in this new concept. We are grateful that the legislature is providing $250 million in tax rebates for residents, which will help address some of the education needs facing families that we were targeting through SB2816, such as tutoring and learning materials.
SB2711: While this bill to expand career readiness programs for students stalled out mid-session, committee hearings helped to advance the conversation around ways to address key barriers. We are hopeful this will be a springboard to have some candid conversations with state leaders around labor and education.
---
Stakeholder Reflections
None of this work would be possible without supportive legislators and community advocates.
Senator Michelle Kidani (Senate Education Committee Chair and lead sponsor of SB2826, SB2824, SB2816)
"I am very pleased that this year, thanks to the large budget surplus, we were able to provide our students with resources to prepare them for future careers right here at home. SB2826 and SB2142 will appropriate $3.6 million towards our students getting industry recognized credentials in needed workforce areas in our State while still in school. These bills will also provide scholarship opportunities for students interested in pursuing computer science. Mahalo to Senator Dela Cruz for his introduction of SB2142, as well as his support as the Ways and Means Chair. In addition, the passage of SB2824 ensures that we will have a Board of Education with the knowledge base to help set policy that strengthens the linkage between education and meeting our State's workforce needs. I believe these three bills, along with strong DOE leadership focused on graduating students ready to pursue their careers and aspirations. Mahalo to David Miyashiro and HawaiiKidsCAN for their continued advocacy and support of our students."
Representative Justin Woodson (House Education Committee Chair and lead sponsor of SB2826 and SB2824 House companion bills)
"SB2826 SD2 HD1 CD1 was one of the many impactful bills we passed during the 2022 Legislative Session that will positively affect our students, as it will help to foster career-ready high school graduates across our islands. Now more than ever, it is important to ensure our students are equipped with the proper skills and knowledge, so they can obtain well-paying jobs and careers after graduation. Therefore, participating in a career development success program can help by teaching students particular skills and knowledge that may be required for certain industries or careers. It is my hope that many students will be able to benefit from this program."
Senator Donovan Dela Cruz (Senate Ways and Means Committee Chair and lead sponsor of SB2142)
"Aloha, I'm Donovan Dela Cruz with the Hawaii State Senate. And we were able to pass some great bills this session to help education move forward, with computer science, CTE certification and minimum requirements of the Board of Education, these bills are going to help our keiki in years to come. A big mahalo goes out to David Miyashiro and HawaiiKidsCAN. Their effort and their support really helped get the bills past the finish line. Mahalo, and looking forward to next session where we can pass more great bills to help education."
Representative Sylvia Luke (House Finance Committee Chair)
"Aloha, my name is Sylvia Luke. I would like to congratulate HawaiiKidsCAN and its executive director, David Sun-Miyashiro for doing a terrific job during this session for advocating many of those bills that are really important to the education of our kids. One specific bill Senate Bill 2142 allows for computer science curriculum to be used for graduation requirements. This is an important bill as we encourage more kids, especially girls, to enter computer science and coding. So terrific work again, Mahalo."
Phoenix Maimiti Valentine (HawaiiKidsCAN board member and WAVE student advocacy program alumna)
"Aloha Kakou, ʻO Phoenix Maimiti Valentine koʻu inoa. Ua ulu au ma ka mokupuni o Oahu. ʻO Kaʻala kuʻu mauna. ʻO Hōnua kuʻu wailele. ʻO Mākaha kuʻu kahakai. I kēia manawa ke noho nei au ma ka ʻāina ʻo ʻAmelika Hui Pū ʻla ma waho o Hawaiʻi. Aia naʻe kuʻu puʻuwai i Hawaiʻi. He haumāna kula nui au. Welina! I grew up on the island of Oahu. Kaʻala is my mauna. Hōnua is my waterfall. Mākaha Beach is my kahakai. Now, I live in the Continental US, outside of Hawaiʻi. Yet, my heart is in Hawaiʻi. I'm a college student. Greetings!
"Haʻaheo wau e kakoʻo i ka Bila Senate 2826. I proudly support SB 2826. SB 2826, will help students invested in Hawaiʻi to continue living at home in paradise. Students' effervescence could breathe new life into industry in Hawaiʻi with guidance from industry professionals as mandated by the state. Students' unique perception and willingness to learn, would enrich the quality of services in our island state and strengthen cultural connections that make Hawaiʻi stand out. Mahalo ʻia oukou, no ka hoʻolohe ana mai. Me ka haʻahaʻa, Phoenix Maimiti Valentine."
Hawaii Society for Technology in Education
"Team HSTE (Hawai'i Society for Technology in Education) is grateful that the 2022 legislature passed laws to strengthen opportunities for Hawai'i Kids. We'd like to congratulate our own Sarah Milianta-Laffin on the passing of SB2821 Menstrual Equity! Mili's Period Poverty grassroots efforts will provide menstrual products for Hawai'i students! HSTE is also excited that SB2142 regarding computer science will give Hawai'i high schoolers and preservice teachers incentives and pathways to learn computer science! Plus, SB2826 will support programs that offer Industry Recognized Credentials for Hawai'i high schoolers, helping 9th through 12th graders connect with meaningful careers and mentors. Hawai'i Kids CAN focus onward & upward toward greater things. Mahalo to everyone for your hardwork and heartwork to elevate and raise the roof for our children!"
Hadi Partovi (Founder and CEO of Code.org)
"Code.org fully supports Hawaii's legislation that will bring computer science to every teacher. We know that computer science is foundational to students' academic, social, and eventually, work lives. Providing every educator with the opportunity to bring this crucial subject matter to all of Hawaii's students is a critical milestone."
---
Mahalo!
There are many, many people and organizations to thank who supported some or all of our priorities and have made these wins possible.
Organizations:
Hawaii Department of Education
Hawaii State Public Charter School Commission
University of Hawaii system
Hawaii State Teachers Association
Code.org
TechNet
Purple Maia
Oceanit
Hawaii Society for Technology in Education
Hawaii Broadband Hui
Maui Chamber of Commerce
Chamber of Commerce Hawaii
YMCA of Honolulu
Computational Thinkers
Society of Human Resource Management (SHRM) Hawaii
Hawaii Business Roundtable
Hawaii Technology Development Corporation (HTDC)
Special Education Advisory Council (SEAC)
Legislators:
SB2826/HB1559 sponsors and cosponsors – Senators: Kidani, Chang, Decoite, Fevella, Inouye, Kanuha, Lee, Misalucha, Gabbard, Keith-Agaran, Keohokalole, Moriwaki, Nishihara, San Buenaventura, Wakai; Representatives: Woodson, Aquino, Branco, Clark, Ganaden, Hashem, Hashimoto, Holt, Ichiyama, Ilagan, Kapela, Kitagawa, Lopresti, Lowen, Marten, Matayoshi, Mckelvey, Mizuno, Morikawa, Nakamura, Nakashima, Nishimoto, Ohno, Perruso, Takayama, Takumi, Tam, Tarnas, Wildberger
SB2142 sponsors and cosponsors – Senators: Dela Cruz, Baker, Gabbard, Inouye, Keith-Agaran, Misalucha, Moriwaki, Wakai, Chang
SB2824/HB1560 sponsors and cosponsors – Senators: Kidani, Chang, Decoite, Dela Cruz, Inouye, Misalucha, Moriwaki, Kanuha, Kim, Nishihara, San Buenaventura, Wakai; Representatives: Woodson, Branco, Clark, Ganaden, Hashem, Hashimoto, Ichiyama, Ilagan, Kitagawa, Lowen, Marten, Matayoshi, Mckelvey, Mizuno, Morikawa, Nakamura, Nishimoto, Ohno, Onishi, Sayama, Takayama, Takumi, Tarnas, Wildberger
SB2826 conference committee – Senators: Kidani, Kanuha, Fevella; Representatives: Woodson, Eli, Clark, Okimoto.
SB2142 conference committee – Senators: Kidani, Kim, Shimabukuro, Fevella; Representatives: Woodson, Takayama, Eli, Gates, Okimoto.
SB2824 conference committee – Senators: Kidani, Kim, Fevella; Representatives: Woodson, Eli, Kapela, Okimoto.
SB2816/HB1834 sponsors and cosponsors – Senators: Kidani, Acasio, Chang, Decoite, Fevella, Kanuha, Keith-agaran, Lee, Misalucha, Baker, Nishihara, San Buenaventura, Wakai; Representatives: Hashimoto, Branco, Clark, Ganaden, Gates, Ilagan, Ohno, Quinlan, Tam, Woodson.
SB2711/HB1707 sponsors and cosponsors – Senators: Taniguchi; Representatives: Quinlan, Gates, Ichiyama, Marten, Nakashima, Okimoto, Onishi, Sayama, Takayama.
Senate Committee on Education: Chair Kidani and Vice Chair Kim.
Senate Committee on Ways and Means: Chair Dela Cruz and Vice Chair Keith-Agaran.
Senate Committee on Higher Education: Chair Kim and Vice Chair Kidani.
Senate Committee on Judiciary: Chair Roads and Vice Chair Keohokalole.
House Committee on Education: Chair Woodson and Vice Chair Kapela.
House Committee on Finance: Chair Luke and Vice Chair Yamashita.
House Committee on Judiciary & Hawaiian Affairs: Chair Nakashima and Vice Chair Matayoshi.
---
We are incredibly grateful for your consistent support this session and over the years.
Governor Ige has until June 27 to announce his intent to veto bills, so the sooner you contact him in support of our priority bills, the better. You can submit a brief message through the comment portal, so please feel free to use the below guides to help you meet the 250 character limit.
If you'd like to support our work, please consider making a donation.
Mahalo!